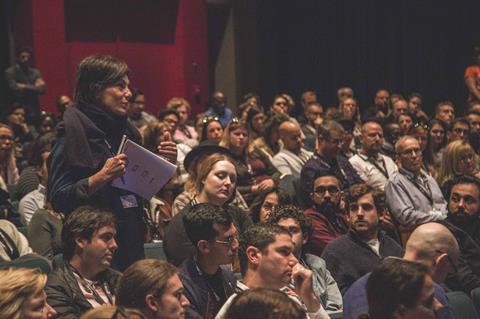 The Toronto International Film Festival (TIFF) has revealed initial plans for its 2021 Industry Conference, which will take place over the first five days of the September 9-18 festival.
The conference will have six sections. New this year is the Connections section, with sessions allowing emerging and mid-career filmmakers to interact with experts and gain practical knowledge.
Returning sections are Visionaries (formerly Master Classes), with prominent individuals forging new creative and business pathways; Dialogues, with craft conversations between directors, actors, writers and showrunners; Perspectives, with moderated discussions on the current state and future of the industry; Microsessions, highlighting new technologies and business practices; and Spotlights, covering talent, incentives and pitches from around the globe.
TIFF's Share Her Journey campaign championing gender parity will continue with initiatives including the Betty-Ann Heggie Speaker Series, offering skills-building for industry professionals, and the Micki Moore Writer-in-Residence programme, which supports screen storytelling by women.
The festival also announced that the RBC Women Creators' Initiative (previously the RBC Female Creator Initiative) has renewed its commitment to support the TIFF Talent Accelerator programme, TIFF Industry access for women and non-binary creators and film professionals and International Women's Day programming celebrating BIPOC talent.
TIFF's senior director of industry and theatrical Geoff Macnaughton said: "As the industry continues to grapple with the lack of inclusivity and diversity, TIFF Industry Conference will spotlight creators, filmmakers and industry professionals who are actively working towards a safer, more inclusive and equitable industry, with sessions exploring the creative process, collaboration for better representation, behavioural standards and policies, equitable hiring practices and diverse voices in film criticism."
TIFF executive director and co-head Joana Vicente added: "The industry as a whole acknowledges that gender inequity is systemic, so change has to happen at every level. By providing practical support to creators with diverse perspectives, TIFF has been able to identify a cycle of impact encompassing four key stages where creators are directly supported by Share Her Journey. The cycle traces the creative journey from inspiration and ideation to a finished work shared with audiences, and is rooted in the objective of having more women-led films created, seen and celebrated."