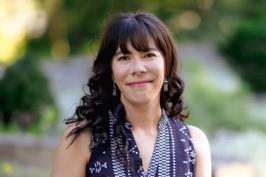 Beans director Tracey Deer will receive the TIFF Emerging Talent Award during the Toronto International Film Festival (TIFF) next month.
Deer joins the previously announced roster of honourees ahead of the 2020 TIFF Tribute Awards on September 15.
The award, presented by L'Oréal Paris and supported by MGM, champions a woman who is "an emerging talent making groundbreaking strides in the industry" and is presented in the spirit of Toronto native, trailblazer and United Artists co-founder Mary Pickford.
This year's TIFF Line-up features 43% films directed, co-directed, or created by women, and 49% of films directed, co-directed, or created by black, Indigenous, or People of Colour filmmakers.
Beans is inspired by Deer's own experiences and tells of a young Mohawk girl who comes of age during the 1990 Oka armed stand-off over land rights. WaZabi Films holds worldwide rights excluding Canada.
The script, written by Deer and Meredith Vuchnich, was supported by the TIFF Studio programme, and in 2019, both women won the TIFF–CBC Films Screenwriter Award. Deer also participated in TIFF's Filmmaker Lab (2018); Studio (2017) and Pitch This! (2017).
Her TV credits include the documentaries One More River: The Deal That Split The Cree, Club Native, and Kanien'kehá:ka: Living The Language, and the series Mohawk Girls,
She is one of six women who have graduated from TIFF Talent Development initiatives with work at this year's festival. The other five are: Michelle Latimer (TIFF Talent Lab, TIFF Writers' Studio) with Inconvenient Indian and Trickster; Aisling Chin-Yee (TIFF Filmmaker Lab, TIFF Canning Fellow) with No Ordinary Man; Emma Seligman (TIFF Next Wave, TIFF Kids) with Shiva Baby; Madeleine Sims-Fewer (TIFF Filmmaker Lab, TIFF Rising Stars) with Violation; and Dea Kulumbegashvili (TIFF Filmmaker Lab) with Beginning.
TIFF previously announced that Kate Winslet and Anthony Hopkins will receive TIFF Tribute Actor Awards; director Chloé Zhao will receive the TIFF Ebert Director Award; Mira Nair the Jeff Skoll Award in Impact Media; and composer Terence Blanchard the TIFF Variety Artisan Award.
On September 11 Halle Berry will discuss her directorial debut, Bruised. The In Conversation With… virtual event will explore Berry's experience directing and starring in the film as well as her career in film and TV. The event is part of the Share Her Journey campaign empowering women behind and in front of the camera.
The overall number of speakers at this year's Industry Conference represents a 50/50 gender split, as do TIFF Talent Development initiatives such as TIFF Studio and Filmmaker Lab.
For the first time all the TIFF Rising Stars are women. Celebrating its 10th year, TIFF Rising Stars is presented by OLG. The four 2020 Rising Stars are: Sheila Atim (Bruised); Rainbow Dickerson (Beans); Tanya Maniktala (A Suitable Boy); and Madeleine Sims-Fewer (Violation).
TIFF also announced on Monday that Molly McGlynn will receive the Micki Moore Residency for 2020, a screenwriting residency for women supported by Toronto journalist and broadcaster Micki Moore and Share Her Journey. McGlynn, an Ambassador for Share Her Journey, will receive a 10-week residency, mentorship from a script consultant, industry accreditation for the festival, and $3,000 towards developing her screenwriting project.
The 45th Toronto International Film Festival runs from September 10-19.