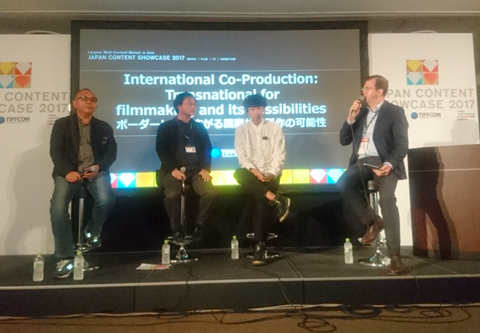 Although Japan's film industry is not renowned for its levels of co-production activity, three Japanese directors shared their recent experiences of shooting overseas at a panel on the opening day of TIFFCOM (October 24).
Koji Fukada (pictured), who recently filmed The Man From The Sea entirely in Indonesia, said he was inspired to make the film following a visit to Banda Aceh. "I knew this project had to be filmed in Indonesia using a mix of English, Indonesian, Japanese and local dialect – it couldn't be done just by Japanese staff," explained Fukada, who won the Un Certain Regard prize at Cannes 2016 for Harmonium.
His new project, about a man who is found washed up on a beach suffering from amnesia, was set up as a co-production between Japan's Nikkatsu Corp, Indonesia's Kaninga Pictures and France's Commes des Cinemas. Post-production is currently taking place in Paris.
Fukada said he found that Japan and Indonesia have hugely different working methods – Japanese productions tend to be more strictly scheduled and spend longer in pre-production – but he appreciated the professionalism and laid-back attitude of the Indonesian crews.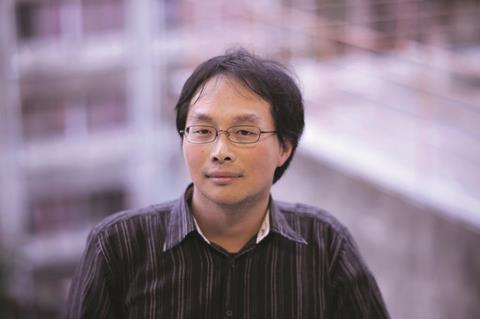 "We think our way of doing things is just common sense, but when you work with foreign crews, you realise there are alternatives to pursuing the Japanese method," said Fukada. "In Japan, we're always worried about time management, but in Indonesia the crew didn't try to rush things despite the limited schedule."
Isshin Inudo, known for films such as Josee, The Tiger And The Fish and The Floating Castle, said he had a slightly more chaotic experience when he was drafted in as a director for hire on a Chinese production. Although some of the cast and crew impressed him, he said China's film industry is growing so fast that not all of the team had a huge amount of experience. "Some of the Chinese crew, including line producers, are very young – so you lose time in a lot of cases."
But he also found an upside to China's way of working when he suggested major script changes and a completely different ending to the story in the middle of the shoot. "The Chinese team were impressed by my ideas and the very next day they rearranged all the shooting schedules. This would not usually be accepted on a Japanese production."
Daishi Matsunaga (Pieta In The Toilet), who recently wrapped an as-yet-unannounced production in Hawaii, said it took him some time to adjust to the US way of working, which is heavily unionised. "There are strict rules in the US about the number of hours crew can work – and resting times and meal times are also secured. So at first it was difficult, but the rules are there to protect staff members, and as a result of that they are high-spirited."
While the production took some Japanese cast and crew to Hawaii, Matsunaga added there were also requirements for using local crews: "We started by filming in Japan, so the art direction and costume designers were Japanese, but not everyone could go to Hawaii due to union rules. We brought people we knew could work with the Hawaiian crews – local culture had to be reflected."
All three directors said they relied on interpreters to get around language difficulties on set. "At first the interpreters were translating word for word what I said, but then I realised you need to give them freedom to help draw out what is needed from the actors," said Matsunaga.
Fukada added that he also relied on a local English-speaking assistant director. "He gave me a lot of useful advice about things like the disparity between rich and poor [in Indonesia] and how that should be depicted."
And all three directors said they would repeat their experiences. Indeed, Fukada and Matsunaga are teaming with two other Japanese directors – Masaharu Take and Eiji Uchida – on a series of short films, Youth And Other Stories, which is being set up as a Japan-France co-production.
The panel, which was moderated by Screen's editor Matt Mueller, was preceded by presentations from Huace Film & TV general manager Zhang Dayong on the rapid changes in China's film market and by the Motion Picture Association (MPA) on the APSA Academy Film Fund.
This year's TIFFCOM, part of the Japan Content Showcase, is taking place at a new venue, Sunshine City, in Tokyo's Ikebukuro district. As the first day closed, attendees were saying that they welcomed the move to a bigger and more central location.