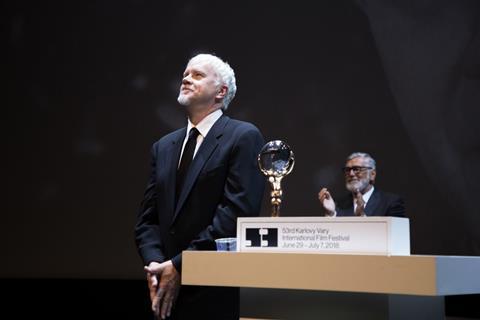 Tim Robbins kicked off the 53rd Karlovy Vary Film Festival (June 29-July 7) with a politically charged speech attacking Donald Trump.
The Shawshank Redemption star was receiving the festival's Crystal Globe on Friday (June 29) for outstanding contribution to world cinema.
In his acceptance speech during the opening ceremony at the Hotel Thermal, Robbins told the audience that he auditioned for the role of bully Biff in Back To The Future, saying: "We are living through a Marty McFly moment. We have gone back to the 1950s. Somehow we have, through the freedom of our votes, willingly chosen to go backwards to a world full of ignorance and distrust fuelled by intolerance."
He added: "We storytellers… have to figure out how to get back to the future; to get back to the world of progress. This is not a shift that will happen on your television or your cellphones. That ship has sailed. Those that are happy about this trip back to the 50s are already controlling the programmes and algorithms that have delivered us to the child abuser in the White House and gigantic tax breaks for the wealthy. No, this new revolution has to come from our hearts. That's where art enters the picture."
He went on: "At this time when stories that shake us up, challenge the way things are, stories that eviscerate the powerful, are most needed, it is incredibly difficult to raise money to tell these stories. That's is why it is essential for our culture and humanity that film festivals like Karlovy Vary exist. It is a moment to see films that have not yet been vetted through the Marvel Universe, reality TV, pornography deemed appropriate for the proles to see. We are at one of those special places in the world where we can still see an unfiltered expression of the world we are living in.
"It is our job as artists and citizens to resist the child bullies, the petulant Biffs in the White House and their bully posse of despots throughout the world and perhaps quite close to us tonight."
Forman tribute and other guests
The festival's opening ceremony also paid tribute to Czech director Milos Forman, who died in April.
His New Wave comedy Loves Of A Blonde (1965) was the festival's opening film, and was followed by a concert where the Czech National Symphony Orchestra played music from some of his other films, including The Firemen's Ball, Taking Off, Amadeus, and Hair.
Robbins said Forman "was an artist first, and he was not interested in compromising his art for profit."
Speaking before the event, festival president Jiri Bartoska credited Forman, who won best director Oscars for Amadeus and One Flew Over The Cuckoo's Nest, with bringing international recognition to the festival.
"Milos Forman was not only an excellent filmmaker, but also a great friend of the Karlovy Vary festival," said Bartoska. "We have decided to remember him not through laudatory speeches, but through what he symbolised — film."
Other guests at the opening ceremony included director Taika Waititi and producer Carthew Neal, who are currently shooting their new film Jojo Rabbit in Prague, and Richard Linklater as part of the festival's tribute to his non-profit Austin Film Society (AFS), which he co-founded.
Linklater said: "[The AFS] represents film enthusiasts and film culture organisations all over the world. The film industry gets a lot of recognition for the big stars and the big movies, but the film culture is pushed along by film festivals and societies and independent theatres. To me that's what's pushing this international dialogue we have with each other."
Casey Affleck, who received the president's award last year, appeared in this year's festival trailer.