Japanese actress joins cast of Chen Kaige's [pictured] Chinese-Japanese co-production, which is currently in production in China.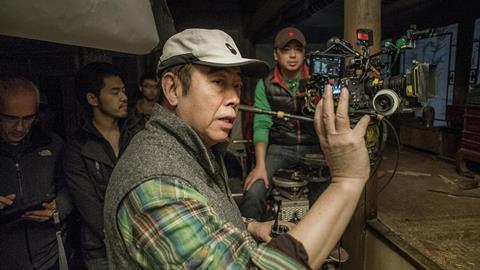 Japanese actress Keiko Matsuzaka has joined the cast of Chen Kaige's Kukai, co-produced by China's New Classics Media and Japan's Kadokawa, which is currently in production.
Based on a novel by Japanese author Baku Yumemakura, the film tells the story of a Japanese Buddhist monk who visits Tang Dynasty China to learn about its culture and civilisation.
The film, which will be distributed in Japan by Kadokawa and Toho, has been shooting in Hubei province in China since the end of July.
The casting was announced today at Tokyo International Film Festival (TIFF) at an event attended by Matsuzaka, Tsuguhiko Kadokawa and Yoshishige Shimatani, who head Kadowkawa and Toho respectively, and Japanese and Chinese government officials.
The film's previously announced cast includes Chinese actor Huang Xuan (The Golden Era) and Shota Sometani, who also appears in the closing film of this year's TIFF, Satoshi: A Move For Tomorrow.
Scheduled for release in 2018, Kukai is a rare co-production between China and Japan. Earlier this week during TIFFCOM, Chinese film executives discussed why there are not more collaborations between the region's two biggest markets.
However, the speakers also discussed how Japanese novels provide strong source material for potential collaborations.
John Woo is currently shooting action thriller Manhunt based on a novel by Japan's Juko Nishimura. Produced by Hong Kong's Media Asia, the film is not a co-production although it features Japanese cast and crew.