Maren Ade named best director as female filmmakers flourish.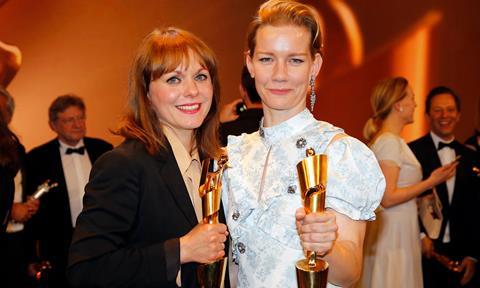 Toni Erdmann continued its triumphant run at the German Film Awards on Friday night, taking home six coveted Lola statuettes in an evening dominated by strong women filmmakers.
Maren Ade's tragicomedy received the Golden Lola for Best Feature Film as well as double honours for Ade (pictured at left) herself as director and screenwriter, plus statuettes for her lead actors Sandra Hueller (pictured at right) and Peter Simonischek, and a Lola for the film's editor Heike Parplies.
Handled internationally by The Match Factory, Toni Erdmann began winning the hearts of critics and audiences around the globe following its premiere in Cannes' Official Competition last year.
It picked up five European Film Awards in Poland's Wroclaw last December – in the same categories as the Lolas except for editing – as well as Golden Globe and Oscar nominations.
Hours before Friday night's ceremony in Berlin, the film's distributor NFP marketing & distribution announced the Komplizen Film production has now crossed the 1m admissions barrier since its release in cinemas in Germany, Austria, and Switzerland last summer.
Women filmmakers were also out in force among the evening's other prize-winners.
Anne Zohra Berrached's Berlinale 2016 competition title 24 Weeks received the Silver Lola for Best Feature Film, while German Film Academy members awarded four Lolas to actress-director Nicolette Krebitz's Wild.
The film earned a Bronze Lola for Best Feature Film, Best Supporting Actor for Georg Friedrich, Best Cinematography/Visual Design for Reinhold Vorschneider, and Best Sound Design for Rainer Heesch, Martin Steyer and Christoph Schilling.
In addition, Swiss-born filmmaker Heidi Specogna added the Best Documentary Lola for her latest work Cahier Africain to an impressive list of accolades such as DOK Leipzig's Silver Dove and the Prize of the Interreligious Jury Prize, as well as two Swiss Film Prizes for best documentary and best editing.
And Lolas will now be finding a place of honour in the homes of costume designer Frauke Firl and make-up artist Kathi Kullack for their work on Christian Schwochow's Paula and Johannes Naber's Heart Of Stone, respectively. The veteran film editor Monika Schindler was the recipient of this year's Honorary Award.
The directorial duo Evi Goldbrunner and Joachim Dollhopf received the Lola for Best Children's Film for the Rat Pack production of At Eye Level, and Simon Verhoeven's refugee comedy Welcome To Germany (Willkommen Bei Den Hartmanns) received a Lola for the most commercially successful German film of 2016 after it drew more than 3.5m German cinema-goers since last November.
However, one of the big disappointments of the evening was the complete absence in the winners' line-up of Chris Kraus' The Bloom Of Yesterday starring Lars Eidinger and Adèle Haenel, despite his film having amassed eight nominations, ahead of the seven earned by Toni Erdmann and Wild.