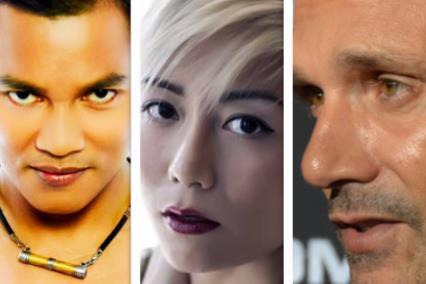 Tony Jaa, Frank Grillo, JuJu Chan, Rick Yune and Marie Avgeropoulos have joined Nicolas Cage and Alain Moussi on the martial arts thriller Jiu Jitsu.
Production is scheduled to begin on June 24 and Highland Film Group represents international rights on the story about an ancient order of elite fighters who battle a vicious alien every six years to protect earth.
When celebrated war hero Jake (Moussi, Kickboxer: Retaliation) is defeated by the alien Brax, the future of humanity hangs in the balance, until a team lead by Wylie (Cage) rescues Jake, now suffering from amnesia, and help him rally to defeat the invaders.
Legendary Thai fighter-actor Jaa starred in the Ong-Bak franchise, and Furious 7) and is currently in production on Paul W.S. Anderson's Monster Hunter. Grillo starred in Captain America, The Purge franchises, and Toronto 2018 opener Donnybrook, and his extensive upcoming credits include action thriller Point Blank, and action sci-fi Boss Level.
Yune's credits include Olympus Has Fallen, Die Another Day, and The Fast And The Furious, while Avgeropoulos broke out in I Love You, Beth Cooper, and currently stars in The 100. Chan starred in Crouching Tiger Hidden Dragon: Sword of Destiny, and will be seen in Netflix's upcoming Wu Assassins, and Chinese action film The Invincible Dragon.
Dimitri Logothetis is directing Jiu Jitsu from a screenplay he adapted with Jim McGrath from the comic book of the same name. Logothetis produces with Martin Barab.
Highland Film Group's recent Cannes sales slate included Persephone starring Mary-Louise Parker and Brianna Hildebrand; Happy Life with Evangeline Lilly and Ike Barinholtz; the Simon Pegg and Lulu Wilson starrer Becky; and thriller We Summon The Darkness starring Johnny Knoxville and Alexandra Daddario.