Award-winning directors Danis Tanovic, Jasmila Zbanic and Srdan Golubovic have revealed stories of "corruption" and "sickness" in their local film industries.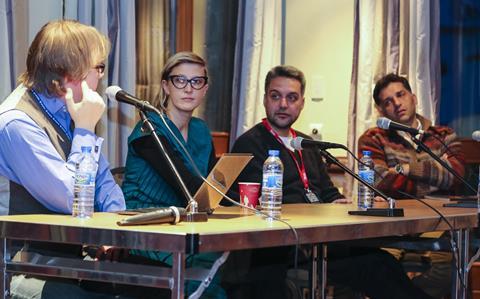 Speaking on a panel, chaired by Screen, about filmmaking in the former Yugoslavia at the Les Arc European Film Festival (Dec 14-21), the three directors engaged in a heated discussion about the struggles they face in their countries.
Tanovic, the Oscar-winning Bosnian director of No Man's Land, said: "Unfortunately, we live where we live. Everything is falling apart. I believe our government, the people who are ruling Bosnia, do not understand the importance of culture - but do understand they have to shut it down.
"It's because we're free thinkers. We put their noses into their own poo. We speak about society. It's not easy for them. We are the only people who stand up and say 'This is not okay'."
"Corruption"
Zbanic, who won the Golden Bear in Berlin with Grbavica in 2006, talked about the "corruption" she faced when applying for funds for her latest project.
"Last time I applied I was rejected because the head of the jury decided to give 80% of money to his own production company," said the Bosnian director. "Unfortunately, this is the sickness of young democracy. I went to Croatia [to shoot new feature Love Island], had a Croatian crew and I'm really happy that Croatian situation is different."
Zbanic, whose For Those Who Can Tell No Tales is screening in competition at Les Arcs, branded Bosnian politicians as "idiots who want to keep power" but also pointed the finger at her fellow filmmakers.
"When the film fund rejected my film because of this corruption, the association of filmmakers didn't react, they didn't say a word. It was only Danis and one other filmmaker who stood up," she said.
"All my colleagues were totally silent and that's a problem because that gives [politicians] power to go on. If we were united, things would be totally different. People live still live under the authoritarian feeling they should respect government, instead of requesting from government what you want."
Tanovic added: "Sometimes I think situation in my country is the way it is because people are afraid of war. They don't want to go to the streets as they are afraid they will live through another war. That is the only reason these fuckers are still in power."
Absolute Beginners
Golubovic, whose Berlinale and Sundance winner Circles has been selected as the Serbian entry for the Best Foreign Language Film at the 2014 Academy Awards, said he faced a similar situation in Serbia.
"Politicians want to have uneducated people. That's much better for controlling the system," said Golubovic. "The toughest thing is to get the money in my own country. I was afraid I would not get the money for Circles but it was easier to get money in Germany and France. All doors were open.
"After all the films we've made, when we start a new one, it's always like that David Bowie song - Absolute Beginners. But those are the rules and we know how it works. It's a normal situation for us."
"But it's not normal that it's normal," said Zbanic. "We are sick if it's normal."
Crazy experiment
Tanovic's latest release, An Episode in the Life of an Iron Picker, won prizes at this year's Berlinale and has been selected as the Bosnian entry for the Best Foreign Language Film at the upcoming Oscars.
But the director said he would be reluctant to repeat the low-budget experiment. "I don't think I could make another film like that. It was crazy," said Tanovic.
"I was sitting with my friends who were saying 'You can't do this shit anymore, you're an Academy Award winner,' and I'm like 'Watch me'.
"It cost €17,000 but it was €500,000 in talent. We were not paid. That's the way it is. The only people I wanted to see this was my students. They would always say it's easy for me. But it's not easy. It's never easy. You have to write a story from zero, show it to people, and then it gets refused. I had three films that fell apart that I never made. You never hear about this because people don't talk about it."
Tanovic's next film is White Lies, which he made in India and tells the story of a poor Pakistani and his struggle against a corrupt system.
Shock
The director has also had a taste of politics, founding political party Naša Stranka in 2008. He said that what he had seen of government had shocked him.
"What I saw there, if I saw it in a Monty Python film, I'd say it was too much. Seriously," added Tanovic. "If people could see what I've seen - how these people conduct themselves - they would be dead, hung from the highest string in Sarajevo. I'm dead serious.
"Culture – they don't understand it, they don't care about it. And what they do understand doesn't please them at all because they don't want people to think or have opinion. The only thing they care about is coming to the Berlinale with their wives and have a photo taken. There is no system."
Les Arcs focussed on films from the countries of the former Yugoslavia at this year's festival, including 14 features from the region in its programme.
In addition, Zbanic received the festival's first Femme du Cinema on Sunday night, an honorary award recognising a female director, producer or actress deemed to be "particularly emblematic of European cinema".