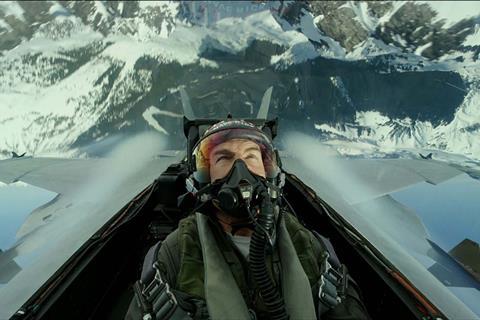 Top Gun: Maverick has crossed the $800m global box office mark after 21 days to become Tom Cruise's biggest ever release.
The action sequel stands at $806.4m worldwide, $383.2m internationally and $422.2m in North America and overtook Cruise's previous record-holder Mission: Impossible – Fallout on $791.1m.
Maverick also ranks as Cruise's top film in 23 markets including the UK, Australia and Brazil and Paramount's top live-action film in 15, among them the UK, Australia, France and Brazil. It is also the studio's second highest grossing release ever.
While some observers have said Maverick could cross $1bn worldwide it still has a way to go. Nonetheless the films flies into South Korea soon.
Joseph Kosinski directed the Paramount Pictures and Skydance film which also stars Miles Teller, Jennifer Connelly, Jon Hamm, Glen Powell and Lewis Pullman with Ed Harris and Val Kilmer.