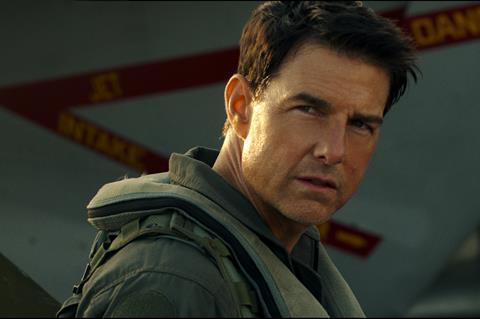 Tom Cruise will receive the Producers Guild Of America's (PGA) David O. Selznick Award for his role as producer on this year's $1.48bn global smash Top Gun: Maverick.
The action sequel marks the higest-grossing release of Cruise's career and that of 110-year-old Paramount, which is giving it a hefty awards season push across multiple categories including best film and lead actor.
Cruise will receive the honour at the 34th Annual Producers Guild Awards on February 25 2023 at The Beverly Hilton. The Selznick Achievement Award recognises a producer or producing team "for their extraordinary body of work in motion pictures" and has gone to the likes of Steven Spielberg, Barbara Broccoli, Mary Parent, David Heyman, and Kevin Feige.
"Beginning with Mission: Impossible, Tom Cruise has developed a talent for producing to match his extraordinary talent as an actor. Tom approaches producing with the same meticulous attention to detail he brings to all of his professional endeavors," said PGA presidents Donald De Line and Stephanie Allain. "His commitment to telling bold, cinematic, and entertaining stories has elevated the global theatrical experience and has resulted in some of the most popular motion pictures in history."
The three-time Oscar nominee's films have earned more than $11bn at the global box office over the last 40 years. His producer credits began with 1996's Mission Impossible and he has gone on to produce more than 20 features, including all eight titles in the spy franchise. Mission Impossible: Dead Reckoning Part 1 and Mission Impossible: Dead Reckoning Part 2 will open in 2023 and 2024.
Cruise's producer credits include Jack Reacher, The Last Samurai, Vanilla Sky, and Elizabethtown.