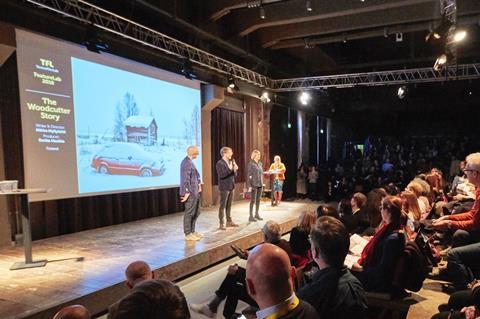 The TorinoFilmLab (TFL) has revealed the 11 new projects selected for the 2019 FeatureLab training programme.
Seven of the projects are debut films this year, with four directed by women and nine women producing.
For the first time a documentary project is in the line-up: Cristina Picchi's About The End.
Focusing on first and second feature films, the lab selects projects at an advanced stage of production and helps a team of directors, scriptwriters and producers get their ideas on screen.
This year's line-up has a focus on diversity and links to local culture, according to Vincenzo Bugno and Violeta Bava, curator and head of studies at the TFL.
"The selection is very diverse, very organic," says Bugno, "from projects questioning sexuality and gender roles to thoughts on language, emigration, history, philosophy and intellectual identity."
The FeatureLab will include two residential workshops (in June and in September) during which the participants will work on the various stages of production and filmmaking, from scripting to direction to sound design, financing and audience engagement strategies, alongside international consultants.
The training will conclude with the annual TFL Meeting Event in November, where the filmmakers will present their projects to an industry audience.
A previous FeatureLab project, Port Authority, has been selected for this year's Un Certain Regard strand in Cannes. It is the debut film of Danielle Lessovitz, who won the FeatureLab's €50,000 ($56,000) co-production fund prize with producer Virginie Lacombe in 2016. The film is co-produced by Martin Scorsese's Sikelia Productions together with Brazilian outfit RT Features and MUBI.
FULL SELECTION
A Male (Columbia), dir. Fabián Hernández, prod. Manuel Ruiz Montealegre, Medio de Contención Producciones (Colombia) - debut
A Year Of Cold (Nepal), dir. Min Bahadur Bham, prod. Catherine Dussart, CDP Catherine Dussart Productions (France)
About The End (Italy), dir. Cristina Picchi, prod. Jesper Kurlandsky & Costanza Julia Bani, Fasad Production AB (Sweden) - debut
Crocodile Tears (Indonesia), dir. Tumpal Tampubolon, prod. Mandy Marahimin, Tanakhir Films (Indonesia) - Project in partnership with BEKRAF – Indonesian Agency for Creative Economy
Houses (Israel), dir. Veronica Nicole Tetelbaum, prod. Ronen Ben-Tal – Plan B Productions - debut
Mizeria (Poland/Canada), dir. Eva Michon, prod. Karen Harnisch, Film Forge (Canada) - debut
Pilgrims (Lithuania), Laurynas Bareisa, prod. Klementina Remeikaite, Afterschool production (Lithuania) - debut
Runner (US), dir. Marian Mathias, prod. Joy Jorgensen, Killjoy Films (Germany) - debut
Still Here (Italy), dir. Suranga D. Katugampala, prod. Francesca Bennett, Okta Film (Italy)
Unrest (Switzerland), dir. Cyril Schäublin, prod. Michela Pini, Seeland Filmproduktion (Switzerland)
Victus (Romania), dir. Andrei Tanase, prod. Irena Isbasescu, Anamaria Antoci, Domestic Film (Romania) - debut