World premieres of Kevin Macdonald's How I Live Now, Fred Schepisi's Words And Pictures and John Turturro's Fading Gigolo are among the TIFF line-up of galas and special presentations.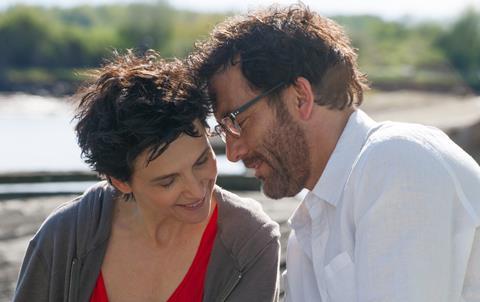 The Contemporary World Cinema strand includes first views of Jan Hrebejk's Honeymoon, Donovan Marsh's iNumber Number and Fernando Coimbra's A Wolf At The Door.
The Toronto International Film Festival is scheduled to run from Sept 5-15.
WP = World premiere
IP = International premiere
NP = North American premiere
CP = Canadian premiere
TP = Toronto premiere
GALAS
Blood Ties Guillaume Canet (France-US) NAP
Bright Days Ahead (Les Beaux Jours) Marion Vernoux (France) NAP
Words & Pictures Fred Schepisi (US) WP
SPECIAL PRESENTATIONS
A Promise (Une Promesse) Patrice Leconte (Belgium-France) NAP
The Armstrong Lie Alex Gibney (US) NAP
Blind Detective Johnnie To (Hong Kong) NAP
Child Of God James Franco (US) NAP
The Face Of Love Arie Posin (US) WP
Fading Gigolo John Turturro (US) WP
The Finishers Nils Tavernier (Belgium-France) WP
How I Live Now Kevin Macdonald (UK) WP
The Last Of Robin Hood Richard Glatzer and Wash Westmoreland (US) WP
The Liberator (Libertador) Alberto Arvelo (Venezuela-Spain) WP
Love Is The Perfect Crime (Amour Crime Parfait) Arnaud Larrieu and Jean-Marie Larrieu (France-Switzerland) WP
Lucky Them Megan Griffiths (US) WP
Rock The Casbah Laïla Marrakchi (France-Morocco) IP
Singing Women (Sarki Söyleyen Kadinlar) Reha Erdem (France-Germany-Turkey) WP
Southcliffe Sean Durkin (UK) IP
Sunshine On Leith Dexter Fletcher (UK) WP
Therese Charlie Stratton (US) WP
Unforgiven (Yurusarezarumono) Lee Sang-il (Japan) NAP
The Wind Rises (Kaze Tachinu) Hayao Miyazaki (Japan) NAP
TIFF KIDS
Amazonia Thierry Ragobert (France-Brazil) NAP
Antboy Ask Hasselbalch (Denmark) WP
Khumba Anthony Silverston (South Africa) NAP
The World Of Goopi And Bagha Shilpa Ranade (India) WP
Zip And Zap And The Marble Gang Oskar Santos (Spain) WP
CONTEMPORARY WORLD CINEMA
For the second year, TIFF partners with the University of Toronto's Munk School Of Global Affairs on the Contemporary World Speakers series. The initiative pairs five films with expert scholars.
A Place In Heaven (Makom Be-Gan Eden) Yossi Madmony (Israel) NAP
A Wolf At The Door (O Lobo Atrás Da Porta) Fernando Coimbra (Brazil) WP
An Episode In The Life Of An Iron Picker (Epizoda U Životu Beraca Željeza) Danis Tanović (Bosnia-Herzegovina-France-Slovenia) NAP
*Robert Austin, professor of political science and lecturer, is a Munk School expert on East Central and Southeastern European Affairs. He will speak about An Episode In The Life Of An Iron Picker in an extended Q&A session following one of the screenings.
Bad Hair (Pelo Malo) Mariana Rondón (Venezuela) WP
Bastardo Nejib Belkadhi (Tunisia-France-Qatar) WP
The Bit Player (Ekstra) Jeffrey Jeturian (Philippines) IP
Blind Dates (Brma Paemnebi) Levan Koguashvili (Georgia) WP
Brazilian Western (Faroeste Caboclo) René Sampaio (Brazil) CP
Break Loose (Vosmerka) Alexey Uchitel (Russia) WP
Child's Pose (Pozitia Copilului) Calin Peter Netzer (Romania) NAP
Club Sandwich (Club Sándwich) Fernando Eimbcke (Mexico) WP
Cristo Rey Leticia Tonos Paniagua (Dominican Republic-France-Haiti) WP
*Ron Deibert, director of the Canada Centre for Global Security Studies and the Citizen Lab at the Munk School Of Global Affairs, is an expert on issues related to technology, media, and world politics. He will speak about Cristo Rey in an extended Q&A session following one of the screenings.
The Dinner (Het Diner) Menno Meyjes (The Netherlands) WP
Eastern Boys Robin Campillo (France) NAP
El Mudo Diego Vega and Daniel Vega (Peru-France-Mexico) NAP
Friends From France (Les Interdits) Anne Weil and Philippe Kotlarski (France-Germany-Canada-Russia) WP
*Michael Ignatieff, professor at the Munk School Of Global Affairs, is an internationally renowned writer, journalist, former politician, and expert on foreign affairs. He will speak about Friends From France in an extended Q&A session following one of the screenings.
Giselle Toa Fraser (New Zealand) IP
Heart Of A Lion (Leijonasydän) Dome Karukoski (Finland-Sweden) WP
Honeymoon (Líbanky) Jan Hrebejk (Czech Republic-Slovakia) IP
Hotell Lisa Langseth (Sweden-Denmark) WP
The Immoral (De Umoralske) Lars Daniel Krutzkoff Jacobsen (Norway) WP
Intruders (Jo Nan-Ja-Deul) Noh Young-Seok (South Korea) WP
The Kids From The Port (Los Chicos Del Puerto) Alberto Morais (Spain) NAP
iNumber Number Donovan Marsh (South Africa) WP
Ladder to Damascus (Soullam iIa Dimashq) Mohamad Malas (Syria-Lebanon-Qatar) WP
Le Grand Cahier (A Nagy Füzet) János Szász (Germany-Hungary-Austria-France) NAP
Life's A Breeze Lance Daly (Ireland-Sweden) IP
Little Feet Alexandre Rockwell (US) WP
The Major Yuri Bykov (Russia) NAP
Manuscripts Don't Burn (Dast-Neveshtehaa Nemisoozand) Mohammad Rasoulof (Iran) CP
McCanick Josh C Waller (US) WP
Metalhead (Málmhaus) Ragnar Bragason (Iceland) WP
Ningen Guillaume Giovanetti and Çagla Zencirci (Japan-Turkey) WP
October November (Oktober November) Götz Spielmann (Austria) WP
Old Moon (Luna Vieja) Raisa Bonnet (Puerto Rico) WP
Palestine Stereo (Falastine Stereo) Rashid Masharawi WP
Paradise: Hope (Paradies: Hoffnung) Ulrich Seidl (Austria-France-Germany) NAP
Qissa Anup Singh (Germany-India-The Netherlands-France) WP
*Janice Gross Stein, director of the Munk School Of Global Affairs, is an internationally renowned expert on global affairs and conflict management. She will speak about Qissa in an extended Q&A session following one of the screenings.
Rags And Tatters (Farsh Wa Ghata) Ahmad Abdalla (Egypt) WP
The Sea Stephen Brown (Ireland) NAP
The Selfish Giant Clio Barnard (UK) NAP
Something Necessary Judy Kibinge (Kenya-Germany) NAP
Stop The Pounding Heart Roberto Minervini (Belgium-Italy-US) NAP
Stranger By The Lake Alain Guiraudie (France) NAP
This Is Sanlitun Róbert I. Douglas (China-Iceland-Ireland) WP
Unbeatable Dante Lam (China-Hong Kong) NAP
Under The Starry Sky (Des Etoiles) Dyana Gaye (France-Senegal) WP
When Evening Falls On Bucharest Or Metabolism (Cand Se Lasa Seara Peste Bucuresti Sau Metabolism) Corneliu Porumboiu (Romania) NAP
White Lies (Tuakiri Huna) Dana Rotberg (New Zealand) IP
The Wonders (Plaot) Avi Nesher (Israel) IP
*Ron Levi, director of the master Of Global Affairs at the Munk School, is an expert on global justice, and human rights regimes. He will speak about The Wonders in an extended Q&A session following one of the screenings.
To Repel Ghosts: Urban Tales From The African Continent
Beginning with an ambiguous science fiction in Nairobi and ending with a reenactment of the myth of Noah's ark in Cape Town's Khayelitsha township, To Repel Ghosts: Urban Tales from the African Continent showcases remarkably uncanny and fiercely contemporary stories, including:
Homecoming (African Metropolis) Jim Chuchu (Kenya) IP
Berea (African Metropolis) Vincent Moloi (South Africa) IP
To Repel Ghosts (African Metropolis) Philippe Lacôte (Ivory Coast) IP
Kwaku Ananse Akosua Adoma Owusu (Ghana-Mexico-US) NAP
Noah's Flood (Unogumbe, Noye's Fludde) Mark Dornford-May (South Africa) WP