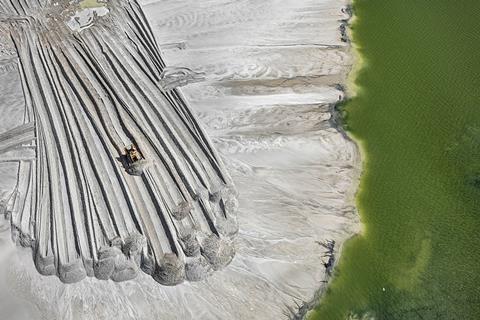 The Toronto International Film Festival has added another 19 Canadian titles to its line-up, among them the world premieres of documentary Anthropocene, Rob Stewart's Sharkwater Extinction and Miranda de Pencier's feature directorial debut The Grizzlies.
The new titles for the forty-third edition of the festival – which runs from September 6 to 16 - include nine films directed by women and five debut features and senior programmer Steve Gravestock emphasised the diversity represented.
Scroll down for full line-up
"We're especially proud to present such a diverse group of films," said Gravestock. "Ranging from science fiction to fantasy, myth to documentary, and romance to a dystopic vision of our neighbours to the south, this year's Canadian films come from every region in the country, stretching from east to west and north to south."
TIFF world premieres showcasing indigenous talent include The Grizzlies, Gwaai Edenshaw and Helen Haig-Brown's Edge Of The Knife, the first feature-length film made in the Haida language, and Darlene Naponse's Falls Around Her.
The lineup also includes works by legendary Canadian documentary filmmakers, including Jennifer Baichwal, Nicholas de Pencier and Edward Burtynsky with Anthropocene, Ron Mann with his Carmine Street Guitars and Thom Fitzgerald with his Splinters.
A special event world premiere and tribute at the festival will showcase documentary Sharkwater: Extinction, the final work by the late filmmaker and conservationist Rob Stewart.
This year's Canadian feature film jury is composed of award-winning Montreal filmmaker Mathieu Denis, Toronto journalist and documentarian Michelle Shephard and Turkish director Ali Özgentürk.
TIFF also announced the Canadian line-up for its Rising Stars programme: Devery Jacobs, Lamar Johnson, Michaela Kurimsky and Jess Salgueiro.
Salgueiro stars in the festival's special presentations opening night film Mouthpiece, from Patricia Rozema. Johnson appears in the festival's official selection titles The Hate U Give, from George Tillman, Jr. And Kurimsky is in Jasmin Mozaffari's Firecrackers.
TIFF will announce its four international Rising Stars on August 16.
This information is not final or complete and is subject to change. All films Canadian unless noted.
SPECIAL PRESENTATIONS
Anthropocene Jennifer Baichwal, Nicholas de Pencier, Edward Burtynsky (world premiere).
The Fall Of The American Empire Denys Arcand
The Grizzlies Miranda de Pencier (world premiere)
SPECIAL EVENT
Sharkwater Extinction Rob Stewart (world premiere)
TIFF DOCS
Carmine Street Guitars Ron Mann (North American premiere)
Prosecuting Evil: The Extraordinary World Of Ben Ferencz Barry Avrich (world premiere)
What Is Democracy? Astra Taylor (North American premiere)
DISCOVERY
Clara Akash Sherman (world premiere)
Edge Of The Knife Gwaai Edenshaw, Helen Haig-Brown (world premiere)
Firecrackers Jasmin Mozaffari (world premiere)
Freaks Zach Lipovsky, Adam Stein (world premiere)
CONTEMPORARY WORLD CINEMA
Falls Around Her Darlene Naponse (world premiere)
The Fireflies Are Gone Sébastien Pilote
The Great Darkened Days Maxime Giroux (world premiere)
Kingsway Bruce Sweeney (world premiere)
Les Salopes Or The Naturally Wanton Pleasure of Skin Renée Beaulieu (world premiere)
Splinters Thom Fitzgerald (world premiere)
WAVELENGTHS
Fausto Andrea Bussmann, Canada/Mexico (North American premiere)
The Stone Speakers Igor Drljača, Canada/Bosnia and Herzegovina (world premiere)