JUNE 26 UPDATE: The Big Sick, The Beguiled huge in limited release. Wonder Woman now biggest live-action global release directed by a woman.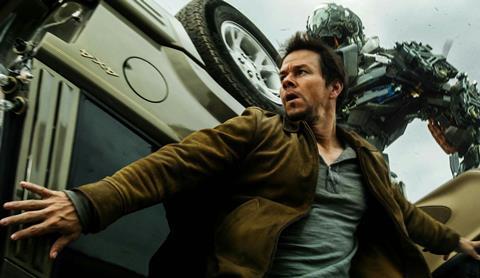 Paramount's Transformers: The Last Knight delivered a weaker debut than originally estimated on Sunday, opening top on a confirmed $44.7m over the Friday-to-Sunday weekend and $68.5m since Wednesday opening day. The result was the lowest debut in the 10-year franchise.
Michael Bay's latest foray into the world of Autobots and Decepticons starring Mark Wahlberg, Laura Haddock and Anthony Hopkins opened in 4,069 theatres and three-day weekend dropped 55% against the $100m three-day launch of Transformers: Age Of Extinction in June 2014.
The tentpole's opening weekend falls considerably against each of the previous four opening weekends. The original Transformers recorded $70.7m from three days in July 2007, which is approximately 45% ahead of the latest debut over three days when adjusted for inflation and some 16.5% ahead of The Last Knight's five-day result.
Unsurprisingly, the key driver for the fifth Transformers episode will be international and the initial wave of 41 territories delivered a useful $199.2m, powered by a record debut for the series in China on $125.3m. There is still a way to go before the film recoups, in light of the reported $217m production cost, which does not include marketing spend.
Warner Bros' Wonder Woman finished second ahead of Pixar's Cars 3 by the thickness of a lasso fibre, earning $24.9m for $318.1m after four weekends and $653.9m worldwide. Patty Jenkins' film now ranks as the biggest global live-action release directed by a woman after it overtook on Friday the $609.8m tally set by Phyllida Lloyd's Mamma Mia, which Universal released in 2008.
Wonder Woman will overtake the $330.4m final gross of 2016's Batman V Superman: Dawn of Justice at the North American box office within a week.
Cars 3 slipped 55.2% in its second session and two slots to number three as $24.1m boosted the running total to $98.8m through Buena Vista. The animation tracks roughly 21.4% behind 2011's Cars 2 by the same stage when adjusted for inflation.
Besides Cars 3, three other films in the top 10 entered their second weekend. Shark thriller 47 Meters Down fell 36.7% but climbed one slot to number four, adding $7.1m for $23.9m through Entertainment Studios.
Tupac Shakur biopic All Eyez On Me tumbled 78% and three slots to number six, adding $5.8m for $38.6m through Lionsgate-Summit. Sony comedy Rough Night with Scarlett Johansson dropped 41.2% and one place to number eight and stands at $16.6m.
The Big Sick and The Beguiled posted the biggest averages for the year-to-date in the specialty arena. Amazon Studios' hit Sundance comedy The Big Sick starring Kumail Nanjiani and produced by Judd Apatow scored an emphatic limited launch at number 18, earning $421,577 from five venues via Lionsgate for an $84,315 per-site average. The film will roll out wide in the coming weeks and FilmNation handles international sales.
The Beguiled, Sofia Coppola's Gothic remake of the Clint Eastwood film from 1971, premiered last month in Competition in Cannes and arrived at number 22 via Focus Features on $229,292 from four for a $57,323 average. The Civil War-era drama stars Colin Farrell, Nicole Kidman, Kirsten Dunst and Elle Fanning. Neon opened The Bad Batch at number 32 on $89,111 in 30 venues.
The top 12 films generated $131.9m at the box office, down 27.4% on last weekend and down 26.5% against the comparable session last year when Finding Dory held on to top spot in its second weekend.
This week's wide releases are: Illumination Entertainment's Despicable Me 3 through Universal; Sony's crime thriller Baby Driver directed by Edgar Wright; and Warner Bros comedy The House with Will Ferrell and Amy Poehler.
Confirmed top 10 North America June 23-25, 2017
Film (Dist) / Conf wkd gross / Conf total to date
1 (-) Transformers: The Last Knight (Paramount) Paramount Pictures International $44.7m $68.5m
2 (2) Wonder Woman (Warner Bros) Warner Bros Pictures International $24.9m $318.1m
3 (1) Cars 3 (Buena Vista) Walt Disney Studios Motion Pictures International $24.1m $98.8m
4 (5) 47 Meters Down (Entertainment Studios) $7.1m $23.9m
5 (4) The Mummy (Universal) Universal Pictures International $6.1m $68.7m
6 (3) All Eyez On Me (Lionsgate-Summit) Voltage Pictures $5.8m $38.6m
7 (6) Pirates Of The Caribbean: Dead Men Tell No Tales (Buena Vista) Walt Disney Studios Motion Pictures International $5.4m $160.2m
8 (7) Rough Night (Columbia Pictures) Sony Pictures Releasing International $4.7m $16.6m
9 (8) Captain Underpants: The First Epic Movie (Fox) Fox International $4.3m $65.7m
10 (9) Guardians Of The Galaxy Vol. 2 (Buena Vista) Walt Disney Studios Motion Pictures International $3m $380.2m