Paramount and Hasbro's fifth instalment arrives in UK, China, among others.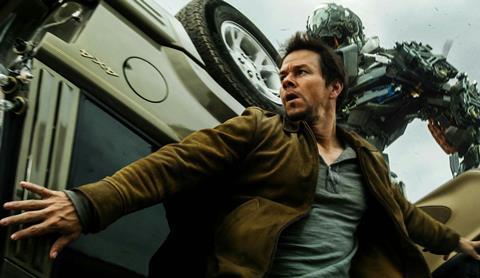 Michael Bay's Transformers: The Last Knight starring Mark Wahlberg, Laura Haddock and Anthony Hopkins touches down in 41 territories through Paramount Pictures International in what needs to be a big opening salvo for the studio.
Thursday's lacklustre $15.7m franchise-low opening day in North America revised predictions for the five-day weekend down to $65m and put pressure once again on international markets to do the heavy lifting.
The fifth instalment in the 10-year franchise arrives day-and-date with North America in the UK, Australia, Germany, Russia, Italy, South Korea and Hong Kong, among others. That is a strong selection and includes China, where the franchise is traditionally a huge draw: 2014 episode Transformers: Age Of Extinction grossed $320m. Online ticketing giant Weying Galaxy is a co-financier and marketing partner with Paramount on the film and will receive an undisclosed share of global revenues.
Working in the franchise's favour is the consistent growth in international grosses since Transformers debuted in 2007 on $390.5m. The second entry Revenge Of The Fallen opened in 2009 and mustered $434.2m, before the franchise took a big leap to $771.4m with Transformers: Dark Of The Moon in 2011, followed by Transformers: Age Of Extinction on $858.6m in 2014.
By contrast, North American box office for the series has dropped every episode since Transformers: Revenge Of The Fallen, which represented the high-water mark on $402.1m. Age Of Extinction finished on $245.4m, although like Dark Of The Moon, it crossed $1bn worldwide.
Paramount top brass know The Last Knight needs to cross $1bn from a perception point of view, let alone to give it a chance of breaking even. The studio has not divulged production and marketing costs, which are certain to be in the multiple hundreds of millions. Additional markets will rollout later in June through early August.
Paramount's action comedy Baywatch starring Dwayne Johnson and Zac Efron stands at $69.4m.
The Mummy has crossed $300m comfortably yet Universal executives know the horror reboot faces an uphill battle to break even given a production budget that according to one report went as high as $190m before marketing costs added a further $100m to the equation.
The Tom Cruise 'Dark Universe' vehicle stands at 316.7m worldwide, of which $255.1m comes from the international arena and a disappointing $61.6m balance from North America. The tentpole opens up appropriately enough in Egypt this weekend.
In early days of release, Illumination Entertainment's Despicable Me 3 has reached $12.9m via Universal Pictures International and debuts in India, while horror hit Get Out stands at $76m. Fifty Shades Darker opens in Japan. Recent LA Film Festival opener and child prodigy drama The Book Of Henry starring Naomi Watts in the UK.
Pixar's Cars 3 has raced to an early $27.9m through Walt Disney Studios Motion Pictures International from the first handful of markets and pulls into Australia, New Zealand and Trinidad this weekend.
Pirates of the Caribbean 5 has amassed $508.4m and debuts in Lebanon and several other markets this weekend. Guardians Of The Galaxy Vol. 2 stands at $470.3m, while Beauty And The Beast has amassed $750.7m.
Wonder Woman has reached $312.4m via Warner Bros Pictures International and debuts this weekend in Spain. King Arthur: Legend Of The Sword stands at $100.3m. Going In Style opens in Japan and has grossed $37.3m.
Teen romance Everything, Everything on $5.5m arrives in France, Germany, and Mexico. MGM acquired rights to adapt Nicola Yoon's novel back in 2015 and partnered with Warner Bros to co-produce and distribute the film worldwide. MGM handling select international territories, including Romania through Forum Film this weekend.
From Fox International, Alien: Covenant has grossed $147.7m, while DreamWorks Animation's The Boss Baby stands at $318.9m. Action comedy Snatched starring Amy Schumer and Goldie Hawn on $12.1m arrives in Mexico.
Captain Underpants: The Epic Movie has grossed $4.9m, while Diary Of A Wimpy Kid: The Long Haul on $9.6m is in the early stages of release and debuts this weekend in Australia. Gifted on $4.6m ventures into several Latin American territories including Argentina. Los Padecientes debuts in Chile.