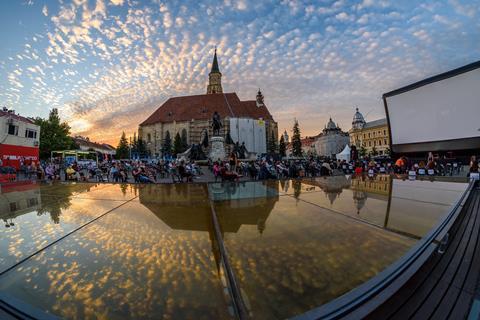 International co-production platform Transilvania Pitch Stop has unveiled the 10 projects set to be showcased later this month.
The ninth edition of the programme will present the titles to potential partners and financiers on June 23, during the Transilvania International Film Festival.
The features in development are from first and second time directors from Bulgaria, Turkey, Greece, Serbia, Republic of Moldova, Romania, Hungary and Ukraine.
This year, five projects will benefit from a tailored script consulting provided by script editor and film consultant Christian Routh, while all projects will be coached by consultant and film producer Agathe Berman prior to their presentation.
The most recent Pitch Stop project to gain international recognition was Ukrainian director Maksym Nakonechnyi's debut feature Butterfly Vision, which played in Un Certain Regard at Cannes last month. Butterfly Vision won the Romanian National Film Centre Award at TPS in 2019.
The one title from Ukraine in this year's lineup is Sasha-Oleksanda from director Andrii Ivaniuk, whose debut feature Eastman premiered at Odesa International Film Festival in 2019.
Transilvania International Film Festival is set to run from June 17-26 in Cluj-Napoca, Romania, returning as a fully in-person event in 15 indoor and outdoor venues.
Transilvania Pitch Stop 2022
40, Maria Luisa Boulevard (Bul)
Dir. Kristina Spassovska
Pro. Maya Vitkova-Kosev, Viktoria Films
As Shadows Fade (Turkey)
Dir. Burcu Aykar
Pros. Nadir Öperli, Liman Film / Müge Özen, Solis Film / Anke Petersen, Jyoti Film
Avanos (Greece)
Dir. Panagiotis Charamis
Pro. Konstantinos Baliotis / 2D2R
Children of the Gods (Ser)
Dir. Filip Kovacevic
Pros. Vukota Antunovic, Beef Production / Djordje Stankovic, Void Pictures
Light (Rep of Moldova)
Dir. Maxim Baraliuc
Pros. Ana Volosinovici, Sergiu Budici, MADS
Lo-fi (Turkey)
Dir. Alican Durbaş
Pro. Ipek Erden, Vayka Film
Monarch (Rom)
Dir. Radu Mihai
Pro. Livia Rădulescu, Dash Film
Psycho-Sexual Thoughts (Hun)
Dir. Bálint Bagossy
Pro. Mónika Mécs, M&M Film studio
Sasha-Oleksanda (Ukr)
Dir. Andrii Ivaniuk
Pro. Volodymyr Filippov, Insightmedia
Where Elephants Go? (Rom)
Dirs. Gabi Șarga, Cătălin Rotaru
Pro. Gabriela Suciu-Pădurețu, Atelier de Film