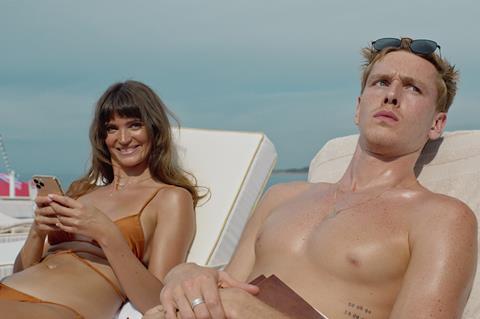 Ruben Ostlund's cruise ship comedy Triangle Of Sadness has won the Palme d'Or at Cannes 2022 – the second time the director has picked up one of cinema's major prizes.
A delighted Ostlund got the audience to unite in a 'primal scream' inside the Grand Theatre Lumiere upon accepting his award. He previously won for The Square in 2017.
Scroll down for the full list of winners
The Grand Prix was awarded ex aequo between Lukas Dhont's Close and Claire Denis' Stars At Noon.
It was one of two prizes to be shared on the night, along with the jury prize, given equally to Jerzy Skolimowski's EO, and Felix van Groeningen and Charlotte Vandermeersch's The Eight Mountains.
Park Chan-wook won the best director award for Decision To Leave, hours after the film topped the Screen Cannes Competition jury grid.
Song Kang Ho took best actor for Broker and Zar Amir Ebrahimi won best actress for Holy Spider. Both received rousing receptions in the room, with Ebrahimi giving a passionate speech about her personal journey to the award.
"I have come a long way to be on this stage tonight," she said. "It was not an easy story; it was humiliation, but there was cinema. It was solitude, but there was cinema. It was darkness, but there was cinema."
Riley Keough and Gina Gammell won the Camera d'Or for best first feature, for US drama War Pony. Accepting the award in Keough's absence, Gammell dedicated it to actor Woodrow Lone Elk, saying that his mother had died this morning.
A special prize for Cannes' 75th anniversary was given to Jean-Pierre Dardenne and Luc Dardenne for Tori And Lokita.
Buoyant mood
The mood was buoyant in the auditorium, with several awardees noting how resilient cinema was despite the challenges of the pandemic.
"We were very afraid of each other," said Park, adding "We have overcome this virus and I'm sure that thanks to filmmakers we will overcome fear of the cinema and people will go back to the movie theatres."
Skolimowski drew laughs by thanking "all six" of the donkeys that are the centre of his film; while best screenplay winner Tarik Saleh (Boy From Heaven) asked the audience to pose for a photo to send to his mother.
This year's jury was presided over by French actor Vincent Lindon, and also included Jasmine Trinca, Joachim Trier, Noomi Rapace, Jeff Nichols, Asghar Farhadi, Rebecca Hall, Ladj Ly and Deepika Padukone.
The winners of Un Certain Regard, Directors' Fortnight and Critics Week were announced earlier this week.
Julia Ducournau's Titane won the Palme d'Or last year, making Ducournau the first woman to win the prize outright (Jane Campion shared the title in 1993 for The Piano with Chen Kaige's Farewell My Concubine).
Cannes 2022 Competition awards
Palme d'Or: Triangle Of Sadness, dir. Ruben Ostlund
Grand Prix: Close dir. Lukas Dhont; Stars At Noon dir. Claire Denis, ex aequo
Best Actor: Song Kang Ho, Broker
Best Actress: Zar Amir Ebrahimi, Holy Spider
Jury Prize: EO, dir. Jerzy Skolimowski; The Eight Mountains, dir. Felix van Groeningen, Charlotte Vandermeersch, ex aequo

Best Director: Park Chan-wook, Decision To Leave
Best Screenplay: Tarik Saleh, Boy From Heaven
Special prize for Cannes' 75th anniversary: Jean-Pierre Dardenne, Luc Dardenne, Tori And Lokita
Camera d'Or: War Pony, dir. Riley Keough, Gina Gammell
Special mention: Plan 75, dir. Hayakawa Chie
Short Film Palme d'Or: The Water Murmurs, dir. Chen Jianying
Special mention: Lori, dir. Abinash Bikram Shah