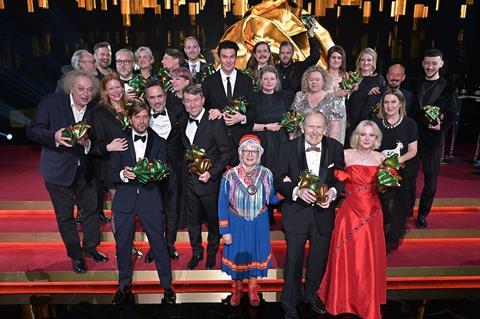 Ruben Ostlund's Triangle of Sadness swept Sweden's Guldbagge Awards on Monday night, winning six prizes including best film and best director.
The satire also won best actress in a supporting role for Dolly de Leon, who recently secured a Bafta nomination for her performance as cleaner-turned-leader Abigail, and best actor in a supporting role for Croatian actor Zlatko Burić.
Sofie Krunegård won the best costume design prize and Stefanie Gredig won the best makeup award for their work on the film.
Triangle Of Sadness won the Palme d'Or at last year's Cannes and is expected to pick up Oscar nominations, after securing three Bafta nods last week.
The Guldbagge (Golden Beetle) award for best actress went to Sigrid Johnson for her performance in Sanna Lenken's Comedy Queen while best actor was won by Granit Rushiti for his debut role as the teenage version of Swedish soccer star Zlatan Ibrahimović in Jens Sjögren's biopic I Am Zlatan.
Adam Berg's Netflix action film Black Crab, starring Noomi Rapace and Jakob Oftebro, won three awards in the technical categories for best cinematography (Jonas Alarik), best visual effects (Simon Sandrin) and best set design (Linda Janson).
Best screenplay went to Tarik Saleh for Cairo Conspiracy (released as Boy From Heaven in Sweden), which is Sweden's entry for the best international feature Oscar and made the shortlist.
Guldbagge Awards 2023
Best Film – Triangle of Sadness 
Best Director – Ruben Östlund, Triangle Of Sadness 
Best Actress In A Leading Role – Sigrid Johnson, Comedy Queen 
Best Actor In A Leading Role – Granit Rushiti, I Am Zlatan
Best Actress In A Supporting Role – Dolly de Leon, Triangle Of Sadness 
Best Actor In A Supporting Role – Zlatko Burić, Triangle Of Sadness 
Best Screenplay – Tarik Saleh, Cairo Conspiracy
Best Editing – Åsa Mossberg, Line Schou, Daughters
Best Cinematography – Jonas Alarik, Black Crab
Best Sound Design – Ted Krotkiewski, All Of Our Heartbeats Are Connected Through Exploding Stars 
Best Original Score – Eirik Havnes, Historjá – Stitches For Sápmi 
Best Visual Effects – Simon Sandin, Black Crab
Best Costume Design – Sofie Krunegård, Triangle Of Sadness 
Best Set Design – Linda Janson, Black Crab
Best Makeup – Stefanie Gredig, Triangle Of Sadness 
Best Short Film – Little To Big 
Best Documentary Film –Historjá - Stitches For Sápmi
The Guldbagge Audience Award – Feed 
Gullspira (for extraordinary contributions in films for children) - Sanna Lenken, director and screenwriter
The Award Of Honour (Hedersguldbaggen) – Björn Gustafson, actor