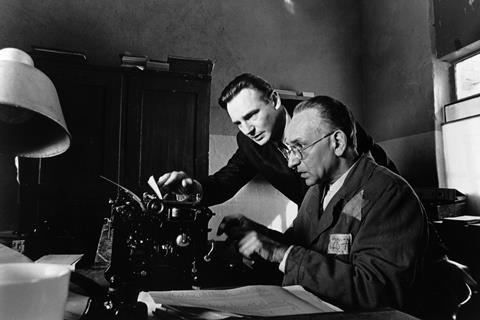 Anniversary screenings of Schindler's List, Scarface and In The Soup are among the Tribeca 2018 line-up of anniversary films and Tribeca Talks series announced on Monday (March 19).
Steven Spielberg's Schindler's List came out 25 years ago and the April 26 screening will be followed by a conversation with Spielberg and cast members Liam Neeson, Ben Kingsley and Embeth Davidtz.
Scarface receives a 35th anniversary screening on April 19 followed by a conversation led by director Brian De Palma with Al Pacino and Michelle Pfeiffer.
In The Soup by Alexandre Rockwell is also in its 25th anniversary year and the April 24 screening is followed by a conversation with Rockwell, Steve Buscemi, Jennifer Beals and Oscar winner Sam Rockwell.
The festival, presented by AT&T, will also feature the Tribeca Talks programme. The Directors Series includes Alexander Payne, Lesli Linka Glatter, Jason Reitman, Laura Poitras, and Nancy Meyers. Speakers in the Storytellers series include Bradley Cooper, Alec Baldwin, Spike Lee, John Legend, Edward Burns, and Jamie Foxx. Sarah Jessica Parker will spearhead the Journey segment and discuss her life.
"As we welcome new filmmakers to the Tribeca community, it is a great time to pause and take a look back at master filmmakers and some of their singular works that have changed filmmaking and influenced popular culture," said Paula Weinstein, executive vice-president of Tribeca Enterprises. "Our anniversary screenings and our Talks allow a rare behind the scenes look at the creative process – be it director, actor, songwriter – we give our audiences a window into the thoughts and inspiration of the best storytellers working today."
The Tribeca Talks: Master Class will be led by TV showrunners Robert and Michelle King, and executive producers Steve Bodow and Jennifer Flanz. Tribeca Talks: The Future of Film will examine how technology impacts storytelling, looking at innovations suck as AI and blockchain technology.
"A key component of the creative community the festival fosters is celebrating and learning from some of the all-time greats in our industry," said Cara Cusumano, Tribeca's director of programming. "Tribeca's Talks and Reunions expand the movies beyond the screen through these illuminating live events with some of today's most engaging cinematic voices."
The 17th annual Tribeca Film Festival presented by AT&T will run from April 18-29. Click here for the full line-up from Monday's announcement.