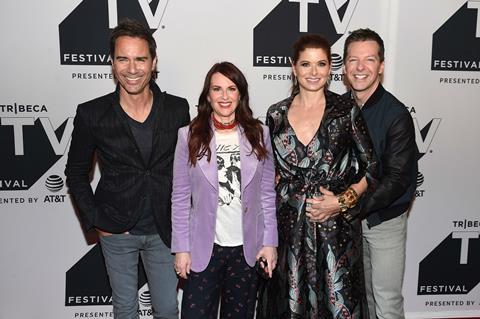 New York's Tribeca TV Festival has been confirmed to return in September with an extra day added and an additional section, Indie Pilots, showcasing new independent voices in episodic television.
This year's festival will run Sept 20-23 and, like last year's inaugural event, will feature premieres of new series alongside special events including season sneak peeks, season finales and conversations with directors, producers, writers and actors in television.
The Indie Pilots section that has been added to the autumn event has previously been a part of the annual Tribeca Film Festival in April.
Submissions for the TV festival programmes will be accepted from May 17 to July 6.
Last year, the festival hosted the surprise world premiere of the new Will & Grace series and screened At Home With Amy Sedaris and Liar and sneaks of Better Things, Red Oaks and Gotham.Panel sessions featured Trevor Noah and the writers of The Daily Show and Oprah Winfrey's Released.
Paula Weinstein, EVP of Tribeca Enterprises commented: "The options for both what and how we watch television continue to expand. We've seen this evolution in the one year since we first launched the TV Festival, which was created to help audiences and creators alike discover new voices, to showcase exciting stories, and to celebrate fan favorites. We're excited for the TV Festival to return as a destination for episodic storytelling."
Cara Cusumano, director of programming at the Tribeca Film Festival, added: "After a tremendous inaugural year and another successful Tribeca TV in April, it's clear that there is more exciting work being created in episodic storytelling than ever before, and that audiences are hungrier than ever to discover it. Our vision for Tribeca TV is a celebratory space that connects these two groups of viewers and creators that would otherwise be separated by the television screen through unique, live, big-screen events."