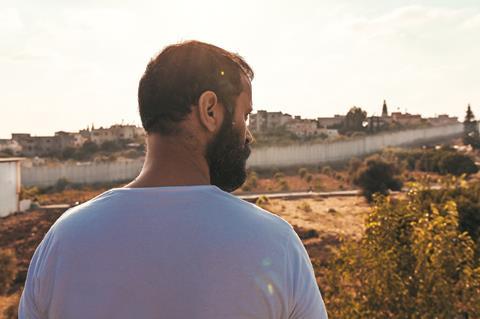 Rome-based True Colours has secured international sales rights to Palestinian drama 200 Meters, which is set to receive its world premiere in competition at Venice's Giornate degli Autori.
The feature has also secured distribution in the Middle East, where its release will be handled by Film Clinic Indie Film Distribution, the Egyptian firm run by producer and Cairo International Film Festival head Mohamed Hefzy (Luxor, Clash).
200 Meters marks the feature debut of Palestinian writer-director Ameen Nayfeh, previously best known for his documentary shorts, and will play in the independent sidebar of the Venice Film Festival (September 2-12).
The film stars Ali Suliman, best known for his roles in Amazon series Jack Ryan and the Oscar-nominated Paradise Now.
He plays Mustafa, a Palestinian man living on the West Bank and separated from his hospitalised son by the wall, who must embark on a harrowing journey to see him. A distance of just 200 meters becomes a 200-kilometer odyssey involving smugglers and other wayward travellers. The cast also includes Anna Unterberger, Motaz Malhees, Lana Zreik and Gassan Abbas.
It is produced by May Odeh for Palestine's Odeh Films in co-production with Italy's MeMo Films and Adler Entertainment, Qatar's Metaphora, and Sweden's Film i Skane and Way Feature Films. Co-producers include Francesco Melzi d'Eril, Marco Colombo and Julia Gebauer
Director Nayfeh said of the film: "200 Meters is my story and the story of thousands of Palestinians. Images of the wall, checkpoints and soldiers are probably what come to mind when Palestine is mentioned. Although these images are also in this film, the focus will be on what such a separation does to us as human beings. And to shed more light on the invisible barriers and walls that are created as a result of the physical barrier."
Nayfeh's 2017 dramatic short The Crossing also dealt with family members struggling to visit a sick relative on the other side of the Israeli West Bank barrier, which is more than 440 miles in length and cuts through Palestinian communities.
The acquisition marks a further move into non-Italian titles for True Colours, which was established in 2015 as a partnership between leading Italian firms Lucky Red Distribution and Indigo Film Production. Other non-Italian acquisitions for the distributor include Brazilian feature Two Irenes, which played at the Berlinale, and Belgian-Canadian romantic comedy Emma Peeters, which was selected for Venice Days in 2018.