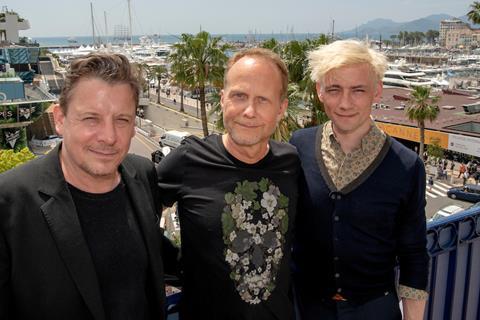 TrustNordisk has boarded international sales for Niels Arden Oplev's new feature Daniel, about Daniel Rye, a Danish photographer who was held captive by ISIS for 398 days.
To date, Rye is the last hostage to escape ISIS captivity alive.
Daniel will start shooting on October 1 in Denmark, Sweden and Jordan. The film is budgeted at $6.5m (5.5m Euros) for a likely 10-week shoot.
The film is based on Puk Damgård's bestseller Ser du månen, Daniel, which tells the true story of the young Danish freelance photographer Daniel Rye, who was held hostage for 398 days by the Islamic State in Syria along with 23 other foreign nationals, including James Foley.
Anders Thomas Jensen (The Salvation, In A Better World) writes the screenplay, which will reflect the prisoners' daily lives in captivity as well as the growing desperation of Rye's family back home in Denmark and the advocate searching to locate him.
Oplev told Screen, "It's an extraordinary story about everyday people who become heroes forced by circumstances…It's people who you could meet on the street everyday, and they get thrown into this international situation. They aren't cynical like most of the people we meet in the media…it's so refreshing to have a story about real people."
Oplev continued, "For me it's a very hopeful story. It carries an important message of real people in conflict with the evil or religious fundamentalism.
He added that the film was a complex drama that "also has suspense like a thriller."
Oplev previously directed the original 2009 Swedish version of The Girl with the Dragon Tattoo, and he has also worked on TV series including Mr Robot and Under The Dome.
After working in Hollywood (on films like 2017's Flatliners and 2013's Dead Man Down), Denmark-born, Los Angeles-based Oplev said he is looking forward "to come back to work in my own language…also it's a setting where I can have complete artistic control."
Producers are Morten Kaufmann and Signe Leick Jensen for Toolbox Film. Co-producers are Annika Hellström of Cinenic, Erika Malmgren, Gudny Hummelvoll (Hummelfilm), Morten Rasmussen (Deluca Film), Peter Possne (Film I Väst). Oplev executive produces alongside Anders W. Berthelsen.
Eric Kress will serve as DoP, Anne Østerud as editor.
The film is supported by the Danish Film Institute, Nordisk Film & TV Fond, Swedish Film Institute, Norwegian Film Institute, West Danish Film Fund, DR, Filmklubben in association with SVT and YLE. Nordisk will handle Nordic distribution.
The cast will be revealed in tomorrow's print edition of Screen.