Micro-budget pilot project scheme will offer $300,000 to one or two selected projects.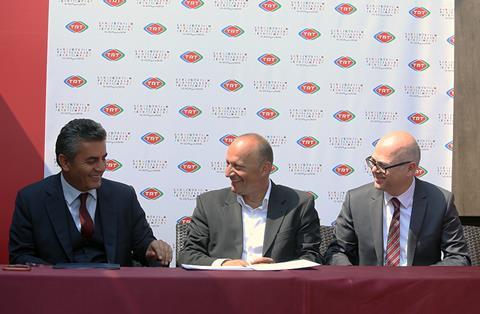 The Sarajevo Film Festival is teaming with Turkey's national public broadcaster TRT to launch a production fund for the region.
Aimed at micro-budget projects, the pilot scheme will be available to producers of fiction features from Bosnia and Herzegovina, Croatia, Kosovo, Macedonia, Montenegro, Serbia and Slovenia.
Dubbed Sarajevo City Of Film For Global Screen (SCF GS), the initiative will select one project to book with $225,000 (€200,000) of production funding and a further $40,000 (€35,000) of in-kind post-production support, plus $40,000 (€35,000) for producer fees.
The scheme will also offer support through the development process and supervision throughout post-production.
The aim will be to encourage writers, directors and producers from the region to produce films oriented towards wider audiences for both the theatrical and the TV markets in Former Yugoslavia and Turkey.
The scheme was launched today at an event at the 22nd Sarajevo Film Festival. Submissions open on Monday (Aug 22) and will close on November 4 2016.
Of the submissions received, two will be selected in December to progress to a workshop stage, held in Sarajevo in mid-December and Istanbul in late-March 2017.
A minimum of one of the projects will be greenlighted for production in Q2 2017, but both projects could potentially progress.
The plan is to screen a rough cut of the project at the 23rd Sarajevo Film Festival's CineLink Work in Progress event in August 2017. The completed films will be screened at the festival in 2018.
TRT will appoint a production company from Turkey who will act as the Turkish co-producer of the project.
Eligible projects must have a director attached, and producers must have one feature film credit to their name from the last four years.
Mirsad Purivatra, director of Sarajevo Film Festival commented: "We are very pleased to announce this partnership with one of the largest public broadcasters in Europe, which will bring great stories to theatres and TV in former Yugoslavia and Turkey.
"It also ties in with the launch this year of our CineLink Drama section, and our ambition to help increase co-operation between the film and TV sectors in our region. A few decades ago, TV was a driver for strong cinema in our region, so there is a legacy to return to, as well as a huge potential that we believe this joint project will help to nurture."
Jovan Marjanović, head of industry, Sarajevo Film Festival added: "Sarajevo City of Film for Global Screen builds on the experience gained from the Sarajevo City of Film Fund, our production scheme that supported the making of 25 short films and two feature films.
"This new pilot edition of SCF GS gives filmmakers from our region the chance to have a film financed quickly, made within a year, and seen by large audiences. It's a rare opportunity and we are excited to see the first results here next summer."