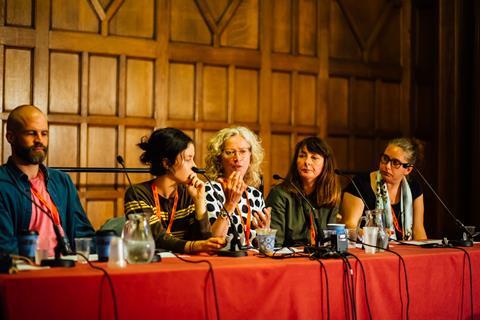 Self-regulation of behaviour in TV industry is failing to punish harassers and destroying women's careers, according to speakers at a Sheffield Doc/Fest panel.
Former Vice presenter Billie JD Porter, who made allegations of inappropriate behaviour against the company earlier this year, said that more men in the industry "should be full-on disgraced" by abuse and bullying allegations following the #MeToo and Time's Up movements.
Porter highlighted that men did not feel a fraction of the damage experienced by women who speak out about them, and that industry guidelines rolled out earlier this year are not yet being taken seriously.
"There have been so many instances of men who – when these complaints arise – are allowed to discreetly leave a company and get a huge pay-out or voluntary redundancy and they still have a sparkling CV to their name, whereas the women who have been brave enough to come forward are deeply traumatized," she said.
Porter noted that "not enough [men's] careers are ending over people's past behaviour but more women's careers are ending" because of the time needed to fight their abusers.
The presenter added: "The idea of implementing guidelines, as brilliant as they are, will summon eye rolls and sighs from the male execs across the country because it seems like a chore for them."
Until more men are shamed "in a very public sense and people say, 'Don't touch that company with a large pole' or 'never go near that man', [the guidelines] are going to seem like an annoying thing production companies have to do. It's not dangerous enough – the risk isn't high enough."
Porter said she "regretted" her involvement with the process of addressing her abuse allegations at Vice.
"These HR procedures are there to protect the company's interests," she said. "Unfortunately, I regret being part of the Vice investigation because it hasn't led to any kind of real change at the company at its core."
Instead, the presenter encouraged more women to create their own networks – "to protect one another".
Time's Up?
Executive producer Jane Merkin, whose credits include Exodus: Our Journey to Europe (BBC2) and Carry On Brussels (Channel 4), was equally skeptical of the impact of the movements on the industry.
"There have been a number of [TV] programmes about #MeToo and bullying but for some reason we don't reflect that on ourselves," she said.
Arguing that 'self-regulation' across TV has not worked, she said that if guidelines are to be enforced, they will need to be properly policed.
"It goes back to who will police it and how, and whether indies will really adhere to every letter of it," she said. "Who will spend time monitoring that?"
Panelists also discussed the impact of abuse and bullying on mental health, noting inadequate support across the industry despite new initiatives such as the Film & TV Charity's 24-hour hotline.
Natasha Dack of Working with Weinstein indie Tigerlily Productions pointed out that when mental health support is put into a budget as a line item, "often you get knockback from the broadcaster and programme finance manager, who will say: 'What is this in there for? That's just contributing to production.'"
Porter added that the landscape was particularly challenging for freelancers dealing with "grueling schedules."
"At the beginning of a production, you need to sign a statement of health form that asks if you have ever suffered from depression or stress that could prevent you from completing production.
"The answer to all of that is 'yes' but I have never written that. It is such a stressful job that people don't even have the room to consider the impact on people's minds."
However, Fiona Campbell, controller for mobile and online BBC News, noted that she feels "more empowered to say things at high level meetings" as a result of the dialogue around #MeToo.
"I am listened to, whereas 10 to 15 years ago, it would be much harder to say things at those meetings."
Tim Hunter, director of learning and new talent at Bafta, added that "none of this conversation could have happened without the #MeToo movement."
"It has created a space where women are believed. There is a shift in the responsibility of people in power. They don't have the license to behave however they want."
This story first appeared in Screen's sister publication Broadcast.