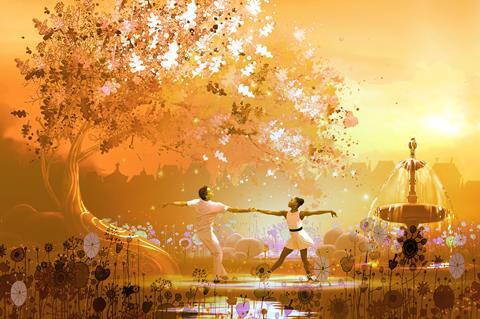 Urban Distribution International (UDI) has boarded sales on a modern-day retelling of the Hoffman-inspired classic ballet Coppelia, combining animation and live-action ballet.
It stars Michaela DePrince, the Sierra Leone-born National Dutch Ballet (NDB) soloist whose life journey from abandoned orphan to star ballerina is currently being adapted to the big screen by MGM for Madonna to direct.
She will be joined by international dance stars Daniel Camargo (Brazil), Sasha Mukhamedov (UK) and Igone de Jongh (Netherlands).
The production is based on DNB director and chief choreographer Ted Brandsen's update of the 19th century comic ballet to the modern day with a timely twist.
In his version, the central sinister figure of Doctor Coppelius is a plastic surgeon whose ambition is to create the perfect robot woman. DePrince will star as Swan, the young heroine, called Swanhilda in the original ballet, who battles to save fiancé Franz (Camargo) after he falls under the deadly spell of Coppelius' latest creation.
Jeff Tudor, who specialises in bringing dance and theatre productions to the big screen, initiated the idea under his Dutch-British banner 3 minutes West banner. He is directing alongside Belgian animation specialists Steven de Beul and Ben Tesseur.
Other production houses on board include Submarine (NL/US), Red Kite Animation (UK), Lunanime (BE) and MotionWorks (DE).
Bruno Felix, co-founding chief of Amsterdam-based multi-platform production house Submarine, said: "Jeff's idea to create a hybrid between ballet and animation found support with Dutch pubcaster AVROTROS; Submarine was brought in for our animation knowledge – and our fearless approach to complex productions."
Budgeted at €6m ($6.7m) and due for delivery in late 2020, the production is aimed at family audiences.
The producers highlight that it will communicate a positive message around self-acceptance and feature a diverse cast with "a mix of ethnicities, ages, shapes and sizes".
"We have an opportunity to tell a contemporary story with an important theme that speaks to today's audience" adds Felix.
Real-life inspiration
The central message chimes with DePrince's own life story and public media work encouraging young people to be themselves.
DePrince grew up a war orphan in Sierra Leone, where she was discriminated against and abused because she suffered from the skin condition vitiligo.
Her life changed dramatically after she was adopted by American parents, who encouraged her ambitions to be a dancer. Her autobiography has been published in 11 countries.
UDI president and founder Frédéric Corvez said his company had first worked with Felix under the banner of distribution company Periscope, a joint venture between Submarine and Fu Works.
"We share this love of animation and when Bruno came to us with this amazing project, it was natural to consider a collaboration on world sales," he said.
"As a producer, it is particularly precious to be aware of the market. It helps promoting the film from a very early stage of production. In the case of Coppelia, where pre-sales are expected, a strong and close partnership is vital.