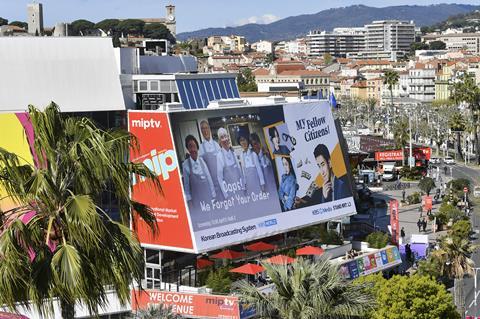 The French TV industry was out in force at this year's MIPTV which put France front and centre as its country of honour.
The showcase laid bare the opposing realities of France's broadcasters, which are undergoing deep change in response to the rise of the global platforms, and the country's producers, who are riding the wave of a seemingly insatiable demand for content.
Delphine Ernotte Cunci, president of state broadcaster France Télévisions, kicked off a showcase of French broadcasters on Monday, laying out how her organisation was evolving in response to new viewing habits and tastes.
The broadcasting chief, who has an annual €420m ($473m) to put into French content across all genres and formats, highlighted two new approaches for drama.
In a bid to capture younger viewers, it has spearheaded a strand of 10 drama projects for online consumption only, kicking off with a French version of the Norwegian teen hit Skam.
It had also entered a new alliance with neighbouring public broadcasters ZDF in Germany and Italy's Rai to produce the types of bigger-budget shows seen on the streaming platforms, kicking off with Around The World In 80 Days and Abu Dhabi-set thriller Mirage.
A recent game-changing development had been the signing of a three-year deal with French producers giving domestic broadcasters a two-year exclusive window on productions they invest in.
Up until now, French broadcasters have not been able to retain rights under French law.
As well as giving local broadcasters more clout when negotiating with platforms like Netflix, this exclusive rights window will also be key for the upcoming domestic SVoD service Salto, being developed by France Télévisions with private broadcasters TF1 and M6.
The proposal is currently with the country's anti-trust authority but the hope is that it will come online in the coming months.
"I don't think we're going to fight Netflix but I think there is a place for a local actor in the SVoD business," said Ernotte Cunci.
"I'm pleased we found a way to be together on that market - with the three of us we will have almost 80% of all the French dramas and factuals and I think it will be a good offer on the market if we can launch it."
Gilles Pélisson, CEO of France's most popular channel TF1, said the company was working to ensure its online programming was on par with that of its linear offering to ensure it was continuing to capture younger viewers.
Like France Télévisions, the broadcaster had also acknowledged audience demand for high-end drama, embarking on its first big budget costume drama La Bazar de la Charité, financing it with Netflix in an unprecedented deal under which the broadcaster retains first-window rights and exploitation on its other platforms before Netflix is allowed to distribute the show.
Pélisson agreed the launch of Salto could be a game-changer if France's antitrust authority signed off on the plan.
"We really hope it will be as soon as possible. There is urgency with Apple TV+, WarnerMedia and Disney+ coming. Beyond Amazon and Netflix, you will have a very good choice," he said, saying the aim was to get the platform up and running by the end of 2019.
Maxime Saada, chairman and CEO of pay-TV network Canal Plus – which has been the hardest hit by the arrival of the platforms, forcing it to implement some €400m worth of cuts in recent years - revealed further cuts were on the way.
"Unfortunately, we need to be fit to fight and we're not completely there," he said.
"When you have these guys that are proposing offers at the €10 price point and sometimes, like Amazon Prime, including it in the overall offer, it's cheap," he said. "You need to be able to compete with that so you need to be lean and to focus on content and invest in that."
Saada demonstrated a remarkably pragmatic and open attitude to competitors like Netflix.
He praised it for getting viewers to pay for content rather than accessing it illegally, adding that piracy remained one of Canal Plus's biggest problems.
He also revealed that the group had even been in talks with Netflix and Amazon on whether their services could be integrated into the Canal Plus offering.
Producers on a roll
While the broadcaster showcases revealed a sector in a state of flux, the events focused on French producers flagged up a flourishing and increasingly internationally-oriented TV production scene.
Among the big guns participating in MIPTV's French focus were chairman Stephane Courbit, CEO Marco Bassetti and CEO François de Brugada of France-based independent production giant Banijay Group.
The trio discussed the reasons behind the success of the company which generates revenues of €1bn ($1.13bn) a year with its multi-genre offering, spanning reality shows such as Temptation Island, Keeping Up With The Kardashians to dramas such as Versailles, Hierro and Wolf Creek.
De Brugada revealed that a staggering 35 million people watch a Banijay show every week in France alone.
Bassetti said part of Banijay's success lay in the way it both supported its 50-odd companies across Europe, Australia and US, but also trusted them to get on with what they did best.
He said there was scope for more growth into English-speaking markets as well as Spain and Germany.
Former Lionsgate chief Patrick Wachsberger and Paris-based producer Pascal Breton also took to the MIPTV stage to discuss their new venture, Picture Perfect Federation publicly for the first time, announcing the new mega-series Ramses.
Breton, who continues to produce independently under his Federation Entertainment banner, was one of the French producers who jumped on the new opportunities created by the platforms.
After a slew of mainly European-language hit series like The Bureau, Bad Banks and Bordertown, teaming with Wachsberger promises to propel Breton into another league of English-language shows, albeit still financed largely out of Europe.
Other panels revealed that there was still space at home and internationally for lower-budget, French-flavoured fair.
In a panel on French savoir-faire Sandra Ouaiss at Elephant Story, Emmanuelle Bouilhaguet at Largardère Studios Distribution and Malika Abdellaoui discussed the popularity of French police procedurals, family dramas and authentic French settings in the international market.
"If you asking what is the French Touch, if you look at the feature film industry in France we have a real knowhow in comedies, and if you look in TV, there are two genres that are really successful. You have family dramas, such as our series Desperate Parents (Fais pas ci, Fais pas ça) which ran for nine seasons and sold in many, many countries and the second genre that is doing well is crime investigation and thrillers," said Ouaiss.
"I'm working on the international side, when people come to me with historical, high-budget projects, unless the project is astonishing, it's complicated because I don't feel I can bring an added value to the project as a French producer. What the French do better is comedy and investigation."
Abdellaoui discussed the success of Newen's Candice Renoir, about a chaotic but effective female police chief based in the South of France, juggling professional duties and family life.
"We've sold it in more than 80 countries. We're very proud of that because it's a pure French procedural… what made the difference was the volume of episodes. We need a quantity of episodes - for Candice we have 68 episodes over seven seasons – and a strong character which connects with the viewers," she said.
The country's diverse authentically French backdrops were also a draw suggested Bouilhaguet, referring to Lagardère's Murders In collection.
"It was made a few years ago and became a collection. There are like 47 titles now. We can see that this collection which is vey local based shot in different regions, is quite popular internationally because you have a strong concept in different locations."
French production at all levels is on a roll.