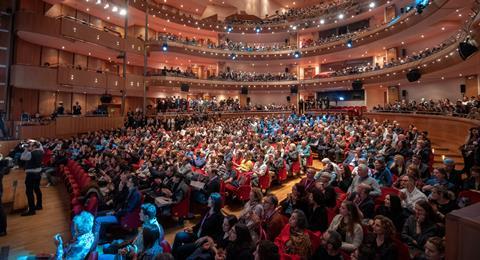 Italy's Far East Film Festival (FEFF), the Asian cinema event based in Udine, has confirmed that it is moving online for this year's edition, which is scheduled to take place June 26-July 4.
Located in northern Italy, FEFF announced as far back as February that it would be postponing from its usual late April slot to late June/early July due to the Covid-19 Coronavirus.
Although northern Italy, the first badly affected location in Europe, is beating back the virus and slowly moving out of lockdown, FEFF organisers finally concluded that an online version was the only option for this year.
Under the slogan 'Face to face, Heart to Heart', the title of a German synth pop hit from the 1980s, the festival is moving all the films selected for competition to on-demand viewing on the Mymovies platform.
"But the online FEFF won't simply be a list of titles," said the organisers in a statement. "It will be a meeting place for all Fareasters, who will be called upon to vote for the winners of the Audience Awards and to participate in the video greetings of the actors and directors and the in-depth talks with the big names of Asian cinema."
FEFF's industry platform, Focus Asia, will also move online (June 30-July 2), with sections including FEFF In Progress, showcasing Asian films in post-production, the Focus Asia projects market and a line-up webinars.
The organisers of the festival will soon announce details of the new schedule, including the number of films, timing and appointments, and the accreditation procedure.