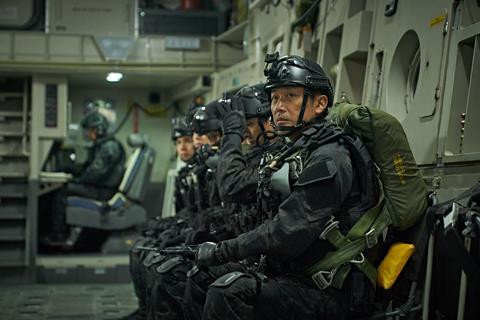 Udine's Far East Film Festival (FEFF) has revealed a lineup of 46 features including four world premieres, for the online-only edition of the event that will run from June 26 until July 4.
It will open with the international premiere of Lee Hae-jun and Kim Byung-seo's disaster action film Ashfall, available to viewers in Europe only.
The film was a blockbuster hit in South Korea over Christmas, grossing almost $60m (£47.9m) by the end of January.
The world premieres are Ning Yuanyuan's Chinese title An Insignificant Affair; Daigo Matsui's Japanese sports comedy #HandballStrive; Layla Ji's Malaysian drama Victim(s); and Mingyi Liao's smartphone-made madcap love story I WeirDO.
The festival will screen a focus on the work of Japanese director Hirobumi Watanabe, with four of his features including I Am Really Good.
The closing film is Derek Tsang's Better Days, which won eight prizes at the Hong Kong Film Awards earlier this year including best director, best picture and best actress for Zhou Dongyu.
The festival, which exists to showcase mainstream Asian cinema, will run via an online platform on MYmovies.it.
The platform is open to viewers worldwide, with different location viewing restrictions across the programme. 14 of the films are available to view worldwide, with a further four available worldwide barring individual country restrictions.
Attendees to the online platform will be able to vote for the winners of the festival's Mulberry awards, and participate in live video sessions with actors and directors.
The festival's industry strand Focus Asia will run online from June 30 to July 2, and will include a selection of webinars and the FEFF in progress project market for Asian films in post-production.
Virtual 'passes' permitting three different levels of access are available to buy via the FEFF site, named 'Silver Ninja', 'Golden Samurai' and 'Platinum Shogun'.
Far East Film Festival 2020 lineup
Competition section
Better Days (China) dir. Derek Tsang
The Captain (China) dir. Andrew Lau
Changfeng Town (China) dir. Wang Jing
An Insignificant Affair (China) dir. Ning Yuanyuan – world premiere
Chasing Dream (HK-China) dir. Johnnie To
Ip Man 4, The Finale (HK) dir. Wilson Yip
Line Walker 2: Invisible Spy (HK) dir. Jazz Boon
My Prince Edward (HK) dir. Norris Wong
Suk Suk (HK) dir. Ray Yeung
The White Storm 2 Drug Lords (HK) dir. Herman Yau
Gundala (Indo) dir. Joko Anwar
Impetigore (Indo) dir. Joko Anwar
#HandballStrive (Jap) dir. Diego Matsui – world premiere
A Beloved Wife (Jap) dir. Shin Adachi
Colorless (Jap) dir. Takashi Koyama
Dance With Me (Jap) dir. Shinobu Yaguchi
Minori, On The Brink (Jap) dir. Ryutaro Ninomiya
My Sweet Grappa Remedies (Jap) dir. Akiko Ohku
One Night (Jap) dir. Kazuya Shiraishi
Romance Doll (Jap) dir. Yuki Tanada
WOTAKOI – Love Is Hard For Otaku (Jap) dir. Yuichi Fukuda
Soul (Malay) dir. Emir Ezwan
Victim(s) (Malay) dir. Layla Ji – world premiere
Edward (Phi) dir. Thop Nazareno
Sunod (Phi) dir. Carlo Ledesma
Ashfall (S Kor) dir. Kim Byung-seo, Lee Hae-jun – opening film
Beasts Clawing At Straws (S Kor) dir. Kim Young-Hoon
The Closet (S Kor) dir. Kim Kwang-bin
Crazy Romance (S Kor) dir. Kim Han-Kyul
Exit (S Kor) dir. Lee Sang-geun
The House Of Us (S Kor) dir. Yoon Ga-eun
Kim Ji-young: Born 1982 (S Kor) dir. Kim Do-young
Lucky Chan-sil (S Kor) dir. Kim Cho-hee
The Man Standing Next (S Kor) dir. Woo Min-ho
Vertigo (S Kor) dir. Jeon Gye-soo
Detention (Tai) dir. John Hsu
I WeirDO (Tai) dir. Mingyi Liao – world premiere
We Are Champions (Tai) dir. Chang Jung-Chi
Out of Competition
Labyrinth Of Cinema (Jap) dir. Nobuhiko Obayashi
I-Documentary Of The Journalist (Jap) dir. Tatsuya Mori
Cheerful Wind (Tai) dir. Hou Hsiao-Hsien
The President's Last Bang (S Kor) dir. Im Sang-soo
Hirobumi Watanabe tribute
Cry (2019)
I Am Really Good (2020)
Life Finds A Way (2018)
Party 'Round The Globe (2017)