Boss Baby bosses previews; Power Rangers powers down; Free Fire off target.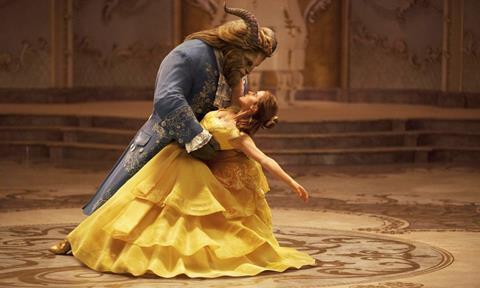 UK TOP FIVE
| Ranking | Film/Distributor | Weekend gross | Running total |
| --- | --- | --- | --- |
| 1 | Beauty And The Beast (Disney) | $8.5m (£6.75m) | $64.3m (£51.35m) |
| 2 | Ghost In The Shell (Paramount) | $2.9m (£2.3m) | $2.9m (£2.3m) |
| 3 | Smurfs: The Lost Village (Sony) | $1.75m (£1.4m) | $1.75m (£1.4m) |
| 4 | Get Out (Universal) | $1.37m (£1.09m) | $8.5m (£6.79m) |
| 5 | Power Rangers (Lionsgate) | $1.08m (£864,591) | $3.83m (£3.06m) |
(Note - Dollar conversions are based on today's rates)
DISNEY
Beauty And The Beast crossed the £50m mark as it recorded a hat-trick as the UK's number one.
Disney's live-action remake waltzed to a $8.5m (£6.75m) third weekend for a spectacular $64.3m (£51.35m) after only 17 days in play, surpassing The Jungle Book's $57.9m (£46.2m) result last year.
It has achieved these numbers despite the lack of school holidays and the UK enjoying sunny weather over the past week, with the film set to make the most of the upcoming Easter school holidays.
Beauty And The Beast currently ranks as the 25th highest grossing film of all time at the UK box office, with a spot in the top ten all-but guaranteed.
FOX
The Boss Baby would have charted second on the strength of its previews this Saturday and Sunday.
Fox's latest DreamWorks Animation outing banked a non-final $3.16m (£2.52m) this weekend which will go towards its official opening from this Friday (April 7).
Also for Fox, Logan fell 42% as it sliced to a $557,000 (£444,414) fifth weekend for a terrific $28.6m (£22.81m) to date, while Viceroy's House stands at $4.72m (£3.76m) after five weeks in play.
Hidden Figures has grossed $7.6m (£6.08m).
PARAMOUNT
Ghost In The Shell fared slightly better in the UK than the US as it landed in second.
Paramount's live-action adaptation fought to a non-final $2.9m (£2.3m) from its 550 sites, including $442,000 (£335,000) from Thursday (March 30). Its Fri-Sun tally of $2.44m (£1.95m) would have also seen it chart second.
That's down on Scarlett Johansson's last lead role Lucy which charted top with a $3.9m (£3.08m) debut from 486 sites in August 2014, but Ghost In The Shell will hope for a sturdy hold this coming weekend.
SONY
Thanks to its previews last weekend, Smurfs: The Lost Village charted third on its UK debut.
Sony's animation journeyed to $1.75m (£1.4m) from its 528 sites, including $585,000 (£467,000) in previews. Its Fri-Sun tally of $1.17m (£933,000) would have seen it chart fourth behind Get Out.
The result is less than half the openings of the previous two Smurfs outings in the UK, although The Lost Village is an animated reboot of the franchise and not a threequel to those films.
Also for Sony, Life dropped 60% from its disappointing opening with a $371,000 (£296,000) second weekend for $2m (£1.6m) after ten days in play.
UNIVERSAL
Get Out fell only 20% with a $1.37m (£1.09m) third weekend as it dropped to fourth.
Universal's critically acclaimed horror is now up to a decent $8.5m (£6.79m) and will hope for similar holds to get it past the £10m milestone.
LIONSGATE
Power Rangers fell 45% on its way to a $1.08m (£864,591) second weekend as it rounded off this week's top five.
Lionsgate's reboot stands at $3.83m (£3.06m) after ten days in play and will hope to at least pass the £5m mark in the coming weeks.
Also for Lionsgate, The Autopsy Of Jane Doe uncovered $16,000 (£12,554) from its 64 sites on its one-night-only special event on Friday (March 31).
WARNER BROS
In its fourth weekend, Warner Bros' Kong: Skull Island fell 42% as it added $828,000 (£661,000) for $18.1m (£14.43m) to date.
Also for Warner Bros, CHiPs dropped a hefty 70% with a $76,000 (£61,000) second weekend for $528,000 (£421,000), while The Lego Batman Movie has now built up $33.7m (£26.88m).
STUDIOCANAL
Free Fire was off target with a relatively soft UK opening as it charted eighth.
Studiocanal's LFF 2016 closer shot to a $602,000 (£480,643) debut from its 335 sites, including previews, marking a $1,798 (£1,435) site average. The film could struggle to sustain in a crowded market.
Free Fire achieved director Ben Wheatley's second best debut behind High-Rise's $680,000 (£542,788) from 153 sites, which included $131,000 (£104,253) in previews.
Also for Studiocanal, The Lost City Of Z fell more than 70% with a $88,000 (£70,224) second weekend for $699,000 (£558,191) to date.
CURZON ARTIFICIAL EYE
From its 16 sites through Curzon Artificial Eye, Graduation posted a UK bow of $42,000 (£33,631), including $7,900 (£6,295) in previews.
Also for Curzon Artificial Eye, The Salesman has grossed $257,000 (£205,272) after three weeks in play.
UPCOMING RELEASES
This week sees saturation releases for Fox's The Boss Baby, Warner Bros' Going In Style and eOne's Peppa Pig: My First Cinema Experience.
Fox's Table 19, Soda Pictures' A Quiet Passion and Icon Film Distribution's City Of Tiny Lights all receive wide releases, while Universal's Raw and Altitude's I Am Not Your Negro are among the films receiving limited releases.