Warner Bros' war epic falls only 18% and will soon hit £30m.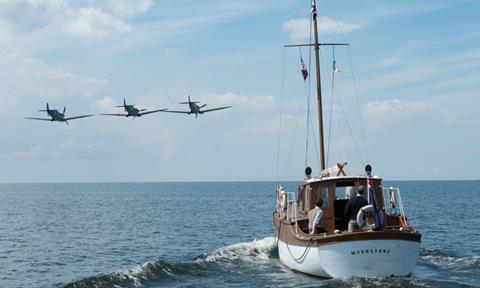 UK TOP FIVE
| Ranking | Film/Distributor | Weekend gross | Running total |
| --- | --- | --- | --- |
| 1 | Dunkirk (WB) | $10.8m (£8.23m) | $35.4m (£27.02m) |
| 2 | Captain Underpants (Fox) | $3.3m (£2.5m) | $3.3m (£2.5m) |
| 3 | Despicable Me 3 (Universal) | $2.9m (£2.24m) | $47m (£35.84m) |
| 4 | Spider-Man: Homecoming (Sony) | $2.1m (£1.6m) | $32.2m (£24.5m) |
| 5 | Girls Trip (Universal) | $2.04m (£1.56m) | $2.04m (£1.56m) |
(Note - Dollar conversions are based on today's rates)
WARNER BROS
Dunkirk continued to dominate the UK box office as it fell less than 20% from its huge opening.
Warner Bros' war epic fought to a confirmed $10.8m (£8.23m) second weekend, currently a drop of only 18%, for an impressive $35.4m (£27.02m) after ten days in play, and will soon become the fifth release of 2017 to hit £30m.
After adding $11.5m (£8.8m) over its first Mon-Thurs period, Dunkirk is already director Christopher Nolan's fourth biggest UK release. It will potentially have overtaken Inception's $47m (£35.81m) by the end of this coming weekend.
Nolan's highest-grossing film in the UK is The Dark Knight Rises' $73.9m (£56.3m) and given its run to date and the upcoming competition, Dunkirk could well be challenging that over the coming weeks.
FOX
Captain Underpants arrived in second after opening last Monday (July 24) as the schools broke up for summer.
Fox's latest DreamWorks Animation release grossed a non-final $3.3m (£2.5m) from its 557 sites, including $1.6m (£1.2m) from Mon-Thurs. Its Fri-Sun tally of $1.66m (£1.27m) would have seen it chart fifth.
That's pretty low for a DreamWorks title, significantly behind the likes of recent releases The Boss Baby and Home, and is more in line with the debuts of Megamind and Bee Movie. Don't bet against it hanging around all summer though given Fox's success with animations.
Also for Fox, War For The Planet Of The Apes fell 39% with a $2.17m (£1.65m) third weekend for $21.3m (£16.24m) to date. It will surpass Rise's $27.3m (£20.77m) over the coming weeks.
The Boss Baby has now amassed $37.9m (£28.9m).
UNIVERSAL
As a result of Captain Underpants' previews, Despicable Me 3 fell to third with a $2.9m (£2.24m) fifth weekend, a drop of only 28%.
Universal's latest Illumination Entertainment release is now up to a strong $47m (£35.84m) and is set to prosper over the summer holidays. Even with competition from The Emoji Movie this weekend, it could cross £40m over the coming week.
Also for Universal, Girls Trip enjoyed an auspicious start to its UK run with $2.04m (£1.56m) from its 345 sites, including $524,000 (£399,537) in previews.
That marks a healthy site average of $5,921 (£4,516) for the female-led adult comedy, and its debut compares favourably to the $1.93m (£1.47m) bow of Bad Moms last year from 463 sites, with that film going on to take $11.3m (£8.6m).
The Beguiled has grossed $1.34m (£1.02m) after three weeks in play.
SONY
In its fourth weekend, Sony's Spider-Man: Homecoming fell a slim 29% as it swung to $2.1m (£1.6m) for $32.2m (£24.5m) to date.
It's currently the seventh biggest Marvel release to date and has overtaken The Amazing Spider-Man 2's $31.6m (£24.1m) UK result, with The Amazing Spider-Man's $34m (£25.9m) soon to be surpassed.
Also for Sony, Baby Driver continued its excellent run with a 25% drop on its way to a $673,000 (£513,000) fifth weekend for $14.6m (£11.1m) to date.
DISNEY
Falling 39% in its third weekend, Disney's Cars 3 added $1.35m (£1.03m) for $9.7m (£7.4m) so far.
It's still with a way to go to avoid becoming the lowest-grossing Pixar release in the UK, currently The Good Dinosaur's $19.4m (£14.8m).
EONE
47 Metres Down landed in eighth as it bit into $836,000 (£637,964) from its 392 sites, including $250,000 (£190,695) in previews, on its UK debut through eOne.
That's down on last year's shark thriller The Shallows which posted a UK bow of $1.05m (£800,963) from its 379 sites, including $119,000 (£91,029) in previews, going on to take $2.94m (£2.24m) in the UK.
STUDIOCANAL
Including previews, Studiocanal's critically acclaimed The Big Sick recorded a UK opening of $641,000 (£488,718) from its 160 sites.
That marks a decent site average of $4,004 (£3,054) and, despite the crowded market, it's the kind of film that should enjoy sturdy midweek results, ahead of a likely site expansion this coming weekend.
VERTIGO RELEASING
Teen horror Wish Upon struggled to make an impact on its UK debut, grossing only $51,000 (£38,525) from its 125 sites through Vertigo Releasing.
ARROW FILMS
From its 30 sites through Arrow Films, Hounds Of Love posted a UK bow of $28,000 (£21,049), including $8,200 (£6,219) in previews.
BFI DISTRIBUTION
The BFI's re-release of Howard's End grossed $19,000 (£14,503) from its 14 sites.
UPCOMING RELEASES
This week sees saturation releases for Lionsgate's Valerian And The City Of A Thousand Planets (opens August 2) and Sony's The Emoji Movie.
Sony's Maudie receives a wide release, while Arrow Films' The Ghoul, eOne's England Is Mine and Curzon Artificial Eye's Williams is among the films receiving a limited release.