Warner Bros' war epic achieves Christopher Nolan's third-biggest opening and second-biggest Fri-Sun debut.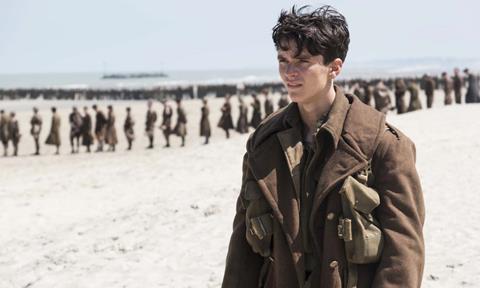 UK TOP FIVE
| Ranking | Film/Distributor | Weekend gross | Running total |
| --- | --- | --- | --- |
| 1 | Dunkirk (WB) | $12.9m (£9.9m) | $12.9m (£9.9m) |
| 2 | Despicable Me 3 (Universal) | $4m (£3.07m) | $39.4m (£30.3m) |
| 3 | War For The Planet Of The Apes (Fox) | $3.52m (£2.71m) | $16.5m (£12.67m) |
| 4 | Spider-Man: Homecoming (Sony) | $2.9m (£2.2m) | $27.5m (£21.1m) |
| 5 | Cars 3 (Disney) | $2.1m (£1.63m) | $6.6m (£5.05m) |
(Note - Dollar conversions are based on today's rates)
WARNER BROS
Dunkirk stormed the UK box office on its debut with the fourth-biggest Fri-Sun opening of the year to date.
Warner Bros' critically acclaimed war epic grossed an impressive $12.9m (£9.9m) from its 637 sites, recording a mighty $20,231 (£15,542) site average, putting it behind Beauty And The Beast, Guardians 2 and Despicable Me 3 in terms of 2017's three-day openings.
That marks director Christopher Nolan's third-biggest overall UK opening, behind The Dark Knight Rises and The Dark Knight, but his second-biggest Fri-Sun total ahead of The Dark Knight's $11.3m (£8.7m).
At IMAX screens, Dunkirk achieved the biggest opening weekend of the year with $1.8m (£1.4m) and the third highest 2D IMAX opening of all time.
Given its strong reviews and word-of-mouth, Dunkirk should be set for an extended run at the UK box office, with its holdover this coming weekend giving a better indication of just how far it can go.
Also for Warner Bros, Wonder Woman stands at $28.5m (£21.93m).
UNIVERSAL
Despicable Me 3 fell only 21% with a $4m (£3.07m) fourth weekend as it remained in second.
Universal's latest Illumination Entertainment hit has become the fourth release of 2017 to cross the £30m mark to stand at a strong $39.4m (£30.3m), although it faces animated competition when Captain Underpants opens today [July 24].
Also for Universal, The Beguiled dropped a steep 64% with a $183,000 (£140,215) second weekend for $1.11m (£852,674) to date.
FOX
Likely hit by Dunkirk's success, War For The Planet Of The Apes fell 48% (excluding previews) with a non-final $3.52m (£2.71m) second weekend as it dropped to third.
Fox's threequel has marched to $16.5m (£12.67m) after 13 days in play and should overtake Rise's $27m (£20.77m), although Dawn's $42.6m (£32.7m) result is out of reach.
Also for Fox, The Boss Baby has now amassed $37.4m (£28.76m).
SONY
Spider-Man: Homecoming fell 42% as it swung to a $2.9m (£2.2m) third weekend.
Sony's latest Spidey outing and first Marvel Studios release is now up to $27.5m (£21.1m), taking it past Thor: The Dark World and Homecoming will soon surpass Iron Man 2's $27.6m (£21.18m).
In terms of Spider-Man films, Homecoming's first target will be The Amazing Spider-Man 2's $31.4m (£24.1m).
Also for Sony, Baby Driver fell a slim 31% on its way to a $885,000 (£680,000) fourth weekend for $13.1m (£10.1m) to date. It has grossed more than the likes of The Mummy ($11.3m/£8.7m) and Transformers: The Last Knight ($12.2m/£9.4m).
DISNEY
In its second weekend, Disney's Cars 3 dropped 38% with $2.1m (£1.63m) for $6.6m (£5.05m) to date, and will look to the school holidays to keep its race going at the UK box office.
PIECE OF MAGIC
André Rieu's 2017 Maastricht Concert took $1.88m (£1.45m) from 586 sites to become the highest-grossing music concert at the UK box office, beating Rieu's own record.
It was the first time the concert was produced and distributed by Rieu's own company Piece Of Magic.
ARROW FILMS
From its five sites through Arrow Films, Scribe recorded a UK bow of $13,000 (£9,768), including $5,800 (£4,456) in previews.
UPCOMING RELEASES
This week sees saturation releases for Fox's Captain Underpants (opens today), eOne's 47 Metres Down (opens July 26) and Universal's Girls Trip (opens July 26).
Studiocanal's The Big Sick, Vertigo Releasing's Wish Upon and Studiocanal's The Wall all receive wide releases, while Arrow Films' Hounds Of Love is among the films receiving a limited release.