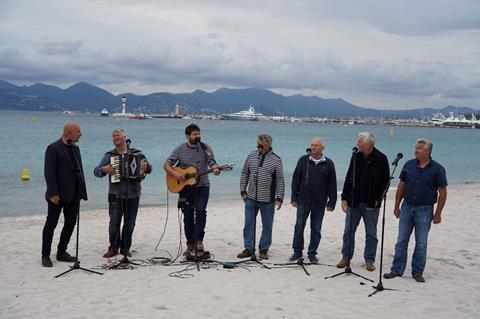 Fisherman's Friends, Chris Foggin's UK comedy which has been a box office smash in its home territory, has been racking up the international territory deals.
James Scott's Legacy Rights is handling sales on the project and has now sold South Africa (Ster Kinekor), Australia (Roadshow), Germany and Benelux (Splendid), Israel (Forum), The Middle East (Phars), and Singapore and Malaysia (Shaws).
Deals were previously announced for Latin America (Sun Distribution), Japan (New Select), Spain (Diamond/Sun Distribution), and Scandinavia (Scanbox).
The Fisherman's Friends band themselves were in Cannes on Friday (May 17) to perform a gig on the beach as Legacy continues to drum up interest for further territories; US rights remain on the table.
Entertainment Film Distributors handled the UK release, where it has grossed $9.3m to date.
The film was produced by James Spring of Fred Films with Meg Leonard and Nick Moorcroft of Powderkeg Pictures. The latter two also wrote the screenplay with Piers Ashworth. Spring, Leonard, Moorcroft and Ashworth have unveiled two further projects here in Cannes: Blithe Spirit with Judi Dench, Dan Stevens, Isla Fisher and Protagonist Pictures, and a biopic of chef Levi Roots.
Daniel Mays and Tuppence Middleton starred in FIsherman's Friends, which was inspired by the true story of male singing group Fisherman's Friends, who went from performing in the village harbour to securing a deal with Island Records, a top-ten album and performing on the Pyramid Stage at Glastonbury.