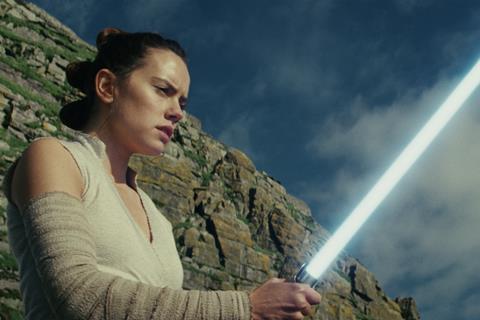 Total cinema box office in the UK & Ireland for 2017 surpassed the record set in 2016 to become the highest-grossing year ever, according to ComScore data.
The total box office across UK & Ireland was £1.378bn, up 3.6% from £1.330bn in 2016. This is an impressive figure given that 2016 was a 53-week year, while 2017 was a 52-week year (the year includes all Friday-to-Thursday playweeks where the Friday falls into that calendar year)*.
Scroll down for top distributors
Comparing a like-for-like period of 52 weeks in each year, 2017 is up 6.1% versus 2016. The record has now been broken in each of the last three years (2015-2017), following a drop of 2.7% in 2014.
Final 2017 admission figures are not available for another couple of weeks but Screen sources estimate that admissions will be up around 1.4%. 2016 admissions were 168.3m. Since 2001 admissions in the territory have remained largely flat.
Overall, 874 films and events were released into cinemas during 2017; this is a slight reduction from 2016's 900 releases, following significant annual increases from around 500 releases a decade ago.
Four British productions/co-productions featured in the overall top 20: Dunkirk at no. 3, Paddington 2 at no. 6, Kingsman: The Golden Circle at no. 15 and Murder On The Orient Express at no. 16.
Lucy Jones, executive director at industry analysts comScore asserted that the theatrical experience remains robust, despite the growing lure of streaming platforms: "Audiences want the right content on the right platform. The latest box office figures confirm that audiences still feel that films are best enjoyed at the cinema with the biggest possible screen, the best sound, comfortable seats and the communal experience. Despite embracing online services, there's still a significant appetite for social interaction in the real world."
Top ten films
Star Wars: The Last Jedi (£73.1m, still on release) jumped ahead of Beauty And The Beast (£72.4m) in the final few days of the year to be the year's biggest film, with distributor of both titles, Disney, releasing three of the year's top five titles.
The Last Jedi has already passed the total recorded by Rogue One last Christmas, and will break into the top five films of all time by the end of its run; fifth position is currently held by Titanic (£80.2m) and the biggest film ever in the market is Star Wars: The Force Awakens (£123.2m).
Only two original properties featured in the top ten: Christopher Nolan's World War II drama Dunkirk, and modern musical La La Land. Dunkirk is Nolan's most successful release, narrowly beating the final instalment of his Dark Knight trilogy. La La Land recorded the fourth-highest gross for a live-action musical, behind only Beauty And The Beast, Mamma Mia! and Les Miserables (all of which were based on pre-existing material).
Top 10 films in UK & Ireland in 2017:
Data up to 4th January 2018
1. Star Wars: The Last Jedi (Disney): £73.1m (still on release)
2. Beauty And The Beast (Disney): £72.4m
3. Dunkirk (Warner Bros): £56.6m
4. Despicable Me 3 (Universal): £47.8m (still on release)
5. Guardians Of The Galaxy Vol. 2 (Disney): £41.0m
6. Paddington 2 (StudioCanal): £39.3m (still on release)
7. It (Warner Bros): £32.3m
8. Thor: Ragnarok (Disney): £31.0m (still on release)
9. Spider-Man: Homecoming (Sony): £30.4m
10. La La Land (Lionsgate): £30.4m
Top 10 British Films in UK & Ireland in 2017:
Data up to 4th January 2018
1. Dunkirk (Warner Bros): £56.6m
2. Paddington 2 (StudioCanal): £39.3m (still on release)
3. Kingsman: The Golden Circle (20th Century Fox): £24.8m
4. Murder On The Orient Express (20th Century Fox): £23.9m (still on release)
5. T2 Trainspotting (Sony): £17.0m
6. Baby Driver (Sony): £13.0m
7. Alien: Covenant (20th Century Fox): £12.9m
8. Lion (Entertainment Film Distributors): £11.8m
9. Victoria And Abdul (Universal): £10.1m
10. The Death Of Stalin (eOne): £5.0m (still on release)
Top distributors
Disney was the top distributor for a second consecutive year, taking £265.1m (19.2% of the total market), despite releasing a mere six films in the year (there were 10 additional holdovers). Four releases from their Lucasfilm, Disney and Marvel brands featured in the top 10, with their other releases Pirates Of The Caribbean: Salazar's Revenge and Cars 3 appearing in the 2017 chart at positions 22 and 32 respectively. Disney is the first distributor to finish the year top despite releasing fewer than ten films.
Warner Bros took second place with £223.2m (16.2% share), up from third in 2016, closely followed by Universal on £214.9m (15.6%) and 20th Century Fox with £207.5m (15.0%). Sony took fifth place with £138.4m (10.0%). In total, 143 distributors released films in 2017, with 111 releases from the top five distributors accounting for more than 75% of the box office revenue. The forthcoming merger between Disney and Fox could create a powerhouse distributor with around one-third of the market.
Lionsgate was the top indie in the UK taking £84m from 35 titles, good for a 57% year-on-year increase in market share to 6.12%. Studiocanal comfortably released the most films among the top ten with 54 and thanks to Paddington 2's fantastic £39m (still on release) the company saw a 166% year-on-year uptick in marketshare. Paddington 2, the sixth-biggest film of the year within ComScore's data parameters (it will likely end up the fifth-biggest film released in the year), accounted for almost 70% of the company's total box office.
Meanwhile, Entertainment One had a tough year, posting a 70% smaller market share in 2017 and only one film above £5m: The Death Of Stalin.
803 titles fought over six percent of the box office, a slight increase in market share on last year.
Rank
Distributor
# Titles

Date Range Gross

Market
Share

Date Range Gross Last Year

Market
Share Last Year
% Chg vs Last Year
1
Walt Disney Int'l
16

265,137,030
19.24%

284,224,308
21.88%
-6.72%
2
Warner Bros Int'l
31

223,273,895
16.20%

201,362,566
15.50%
10.88%
3
Universal Int'l
30

214,956,509
15.60%

180,466,555
13.90%
19.11%
4
Fox Int'l
40

207,539,404
15.06%

208,080,062
16.02%
-0.26%
5
Sony Int'l
28

138,417,151
10.04%

86,583,908
6.67%
59.86%
6
Lionsgate
35

84,301,076
6.12%

53,652,255
4.13%
57.12%
7
Studiocanal
54

56,840,439
4.12%

21,357,886
1.64%
166.13%
8
Paramount Int'l
13

50,246,840
3.65%

65,319,553
5.03%
-23.08%
9
eOne Films
32

33,284,068
2.41%

109,943,854
8.47%
-69.73%
10
Entertainment Film Distributors
6

22,320,237
1.62%

19,193,815
1.48%
16.29%
Others
803

81,963,686
5.95%

68,592,517
5.28%
19.49%
2018
ComScore estimates that the top spot in 2018 is likely to be a close-fought battle between Avengers: Infinity War, Jurassic World: Fallen Kingdom, Solo: A Star Wars Story and Fantastic Beasts: The Crimes Of Grindelwald.
"Disney/Pixar's Day of the Dead animation Coco should ensure a strong start to the year in January, quickly followed by Aardman's Early Man," said the firm. "February brings Fifty Shades Freed and Black Panther, the next instalment in the Marvel Cinematic Universe."
*The 2017 date range was Friday 6th January 2017 to Thursday 4th January 2018. The 2016 date range was Friday 1st January 2016 to Thursday 5th January 2017 (53 weeks); for like-for-like analysis of 2017 vs 2016, the 2016 date range was Friday 8th January 2016 to Thursday 5th January 2017 (52 weeks).