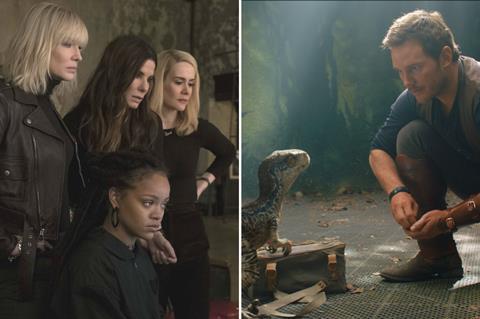 Warner Bros' Ocean's 8 looks set to knock Universal's Jurassic World: Fallen Kingdom off the top spot this weekend at the UK box office, with the all-female heist film poised for a mammoth seven-day opening.
Officially entering UK cinemas on Monday (June 18), Ocean's 8 has taken a sizable run-up to the weekend.
Based on the notion a UK release can expect to gross around 10% of its US release (without converting the currency from pound to dollars), Warner Bros will be hoping Ocean's 8 will have an opening of at least £4.2m as the film took $41.6m on its opening in the US. (It has now grossed $84.3m in the US after 12 days on release.)
The Ocean's films have tended to perform comparatively as well in the UK as in the US. The highest-grossing entry worldwide in the franchise so far is the first - Steven Soderbergh's Ocean's Eleven, starring George Clooney, which was released in the UK in February 2002. The film took £5.1m on its opening weekend in the UK and ended on £26.5m, which outshone its US gross of $183.4m. (It was of course a remake of the 1960 version starring Frank Sinatra). Sequels Ocean's Twelve and Ocean's Thirteen opened with £3.4m and £3m in the UK respectively, and ended on £12.6m and £13.5m.
Jurassic World: Fallen Kingdom dropped 32% in the UK last weekend, taking £7.2m and leaving it on £25.6m after two weeks. The film faces a tough task getting close to the original's total of £64.5m.
Further new openers this weekend include Eve Gabereau's nascent distribution outfit Modern Films' Boom For Real, a feature documentary directed by Sara Driver about the life of US artist, Jean-Michel Basquiat, in late 1970s New York. It premiered at TIFF in 2017.
Curzon Artifical Eye is rolling out Fatih Akin's German-language crime drama In The Fade into 36 sites. Diane Kruger stars as a woman who loses her husband and young son in a terrorist attack. The film premiered in Competition at Cannes in 2017 where Kruger won the best actress prize and it went on to win the Golden Globe for best foreign-language film. Into The Fade opened in the US via Magnolia in December 2017 and grossed $321,011. Internationally, it has opened widely, garning $2m in France and $1.6m in Germany, the biggest territories to date for the film.
Overboard, MGM's gender reversal remake of the 1987 comedy, opens this week via Vertigo Releasing. Anna Faris and Mexican superstar Eugenio Derbez star in the film in which a nurse (Faris) gets her own back on her arrogant playboy boss (Derbez). The original saw Goldie Hawn as a spoilt rich woman on whom a carpenter, played by Kurt Russell, gets his revenge.
Holdovers are likely to account for the rest of the UK top five this weekend, with Entertainment Film Distributors' Hereditary looking to harness strong reviews and a lack of other non-blockbuster fare by building on its opening salvo of £1.9m last weekend. Disney's Solo: A Star Wars Story and Avengers: Infinity War will both continue to tick over in the UK, the latter, on £70.2m as of last weekend, will be aiming to get closer to surpassing Beauty And The Beast's total of £72.4m to become the ninth highest-grossing film in UK history.
Elsewhere, Yash Raj's Bollywood thriller Race 3, starring Anil Kapoor and Salman Khan, got off to a strong start last weekend, grossing £782,951 for a place in the UK top five chart, a figure only narrowly behind the country's top Bollywood opening of the year, Padmaavat on £851,252. Lionsgate will also be looking to build on strong starts with Rupert Everett's Oscar Wilde biopic The Happy Prince (£106,783 from 34 sites in its opening weekend) and Alexander McQueen documentary McQueen (£338,282 after two weekends).