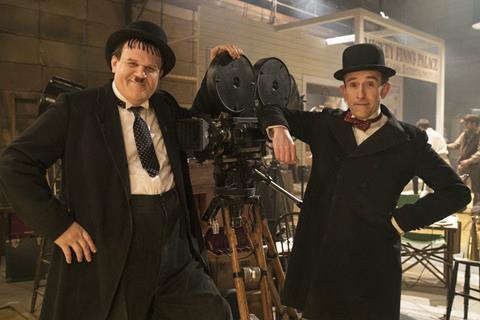 This week's UK box office sees three awards season hopefuls debut to challenge Mary Poppins Returns and The Favourite at the top of the chart.
Likely to be chief among the new openers is Entertainment One's Stan & Ollie, the biopic of comedians Laurel and Hardy, starring Steve Coogan and John C. Reilly, and directed by Jon S. Baird. The film closed last year's London Film Festival and picked up three Bafta nominations earlier this week, including one for Outstanding British Film and a surprise nod in the best actor race for Coogan's portrayal of Stan Laurel.
Scottish director Baird's previous film Filth opened to £248,046 in the UK in September 2013 and built to an impressive £3.9m.
Also opening this week (from Wednesday, Jan 9) is Colette via Lionsgate. Directed by Wash Westmoreland, the film stars Keira Knightley as unheralded Parisian author Sidonie-Gabrielle Colette. Following its premiere at Sundance last year, the film also played Toronto and London. Despite positive reviews, the film was shut out at the Bafta nominations this week.
Director Westmoreland's previous credits include Still Alice, which grossed £2.6m in the UK in 2015. Knightley has regularly been a UK box-office darling, appearing in the mega-grossing Pirates Of The Caribbean franchise, as well as indie hits such as Bend It Like Beckham and The Imitation Game.
Sony Pictures' The Front Runner also opens this weekend. Hugh Jackman stars in the drama directed by Jason Reitman about an American senator whose presidential campaign is derailed by the exposure of a scandalous love affair.
After two consecutive UK box office successes in the form of Juno (£9.8m gross in 2008) and Up In The Air (£6.6m in 2010), Reitman's films have struggled in the country, with his last four efforts (Tully, Men, Women & Children, Labor Day and Young Adult) all failing to crack £1m.
Further new releases include STX Entertainment's The Upside, Neil Burger's remake of the highly successful French feature Untouchable, which grossed £2m in the UK in 2012. The new film stars Kevin Hart, Bryan Cranston and Nicole Kidman in the story of the relationship between a wealthy quadriplegic man and the man with a criminal record who is hired to care for him.
Also on release this week is Dartmouth Films' The Ponds, New Wave's The House By The Sea, and Trafalgar Releasings' event cinema title Adriana Lecouvreur from the Met Opera's 2018/19 season.
Holdovers battling for the crown this weekend will be Disney's Mary Poppins Returns, which reached £34.3m after its third week last time out, 20th Century Fox's The Favourite, which scored a mighty 12 Bafta nominations this week, and Warner Bros' Aquaman.