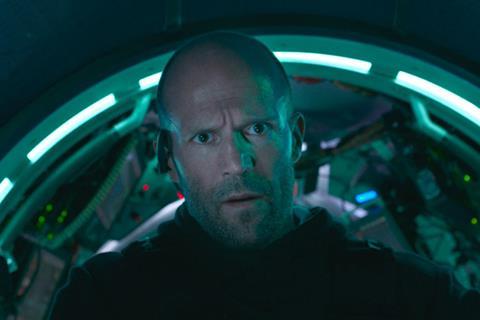 It's a soft-looking set of releases in the UK this weekend, which will mean holdover studio fare such as Mamma Mia! Here We Go Again (Universal), Ant-Man And The Wasp (Disney) and Mission: Impossible – Fallout (Paramount) will be looking to make use of the forecast break from the UK's summer heatwave.
The Mamma Mia! sequel stayed top of the chart for the third straight week last weekend, moving to a mighty £39.3m, while Marvel's Ant-Man sequel disappointed with a soft opening of £5m (for a superhero title).
In the indie space, Apostasy (Curzon), The Escape (Vertigo), First Reformed (Picturehouse) and Sicilian Ghost Story (Altitude) will all be hoping a break in the weather can help to boost their numbers.
New releases this weekend include The Meg (Warner Bros), the Jason Statham-starring action movie in which he battles a 70-foot prehistoric shark. Following a rain-affected press screening at London's Brockwell Lido this week, the film rolls into 499 sites this weekend.
Non-franchise Jason Statham titles have had mixed fortunes in the UK in recent years. Wild Card took £410,000 via Lionsgate in 2015, Homefront took £1.1m also via Lionsgate in 2013, and Parker took £1.7m via eOne in 2013.
Looking at recent monster movies, the Dwayne Johnson-fronted Rampage (also Warner Bros) kicked off with £4.1m in April this year, grossing close to £9m.
Further new openers include 20th Century Fox's The Darkest Minds, Jennifer Yuh Nelson's young adult sci-fi starring Amandla Stenberg, and Universal's horror Unfriended: Dark Web, both of which will receive wide releases this weekend.
Elsewhere, Universal is rolling out Wim Wenders' documentary Pope France: A Man Of His Word, Kaleidoscope Entertainment has family film Dog Days, Curzon Artificial Eye has artist documentary Leaning Into The Wind: Andy Goldsworthy, Thunderbird has Marcelo Martinessi's drama The Heiresses, which premiered at the Berlinale earlier this year, Vertigo has Mike P. Nelson's horror The Domestics, and Signature is releasing the Jon Hamm and Rosamund Pike-starring The Negotiator.