As Screen revealed in October 2017, UK businessman and philanthropist Stefan Allesch-Taylor has pledged £1m to fund short-form content.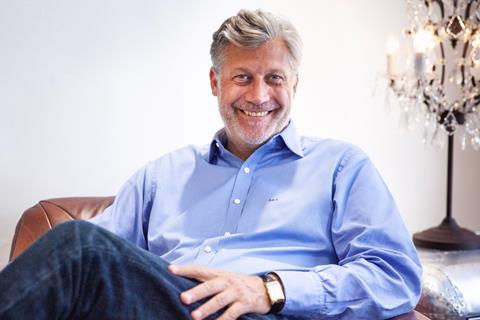 Now, nine months on, Allesch-Taylor reveals that his organisation has to date part-funded 22 projects, many of which have played at festivals and won awards on the circuit. These include four short films which the organisation invested in for means-testing prior to its official launch.
The films backed so far include: Gerry, from writer-directors Victoria Hollup and Paul Agar, which recently won the LA Shorts Fest's best actress award for star Joan Collins; What Happened To Evie, director Kate Cheeseman and writer Carol Younghusband's drama featuring Olivier Award winner Michael Jibson, which won awards at Galway Film Fleadh and Cannes Short Film Corner; Hair Cut, directed by Koby Adom and produced by Joy Gharoro-Akpojotor, which was granted the London Calling Film Plus Award by juror David Yates; and Edward Watts' Oksijan, featuring Elham Ehsas and Ella Purnellm, which screened at last year's BFI London Film Festival and was the winner of the best director prize at Delhi Shorts International Film Festival.
Upcoming projects backed by Allesch-Taylor's fund include Bafta-winner Caroline Bartleet's Rachel starring Jodie Whittaker, and Little River Run, Deadpool actor Ed Skrein's writing and directing debut, which is in post-production and is in line for a festival debut soon.
"We've had an inordinate amount of applications, I'm delighted by that. In nine months, we've put together a slate that is strong and diverse," commented Allesch-Taylor.
The organisation part-funds short-form projects with an average investment of around £10,000, although it will from time to time award smaller or larger amounts, and occasionally fully fund a short. In total, it has awarded close to £200,000 to date.
"These are the early days of a much bigger proposition – scaling up is our mission," explained Allesch-Taylor. He estimates that the organisation will fund a further 20 projects before the end of the year, and 2019 will see it "work on one or two more high-profile things" in a similar sphere.
The fund has a team of six, fronted by producer Charles Kay, which select the projects. It currently has few defined criteria, and will consider applications from the UK and abroad, but he is keen to stress that they are looking for entrepreneurial filmmakers. "If you're an artist and you don't give a toss about the money, we wish you luck but you're not for us – entrepreneurship is a crystal-clear part of how we see our return."
Currently, his organisation takes no rights to the project, though he hopes that successes might see some money flow back into the company. "If you monetise your film you should really pay us back, but no one owes us anything."
Future-proofing
Since Screen published its initial article, several people reached out to ask why Allesch-Taylor is investing his money in an unfashionable part of the business.
He reiterates that it is an "entirely philanthropic" endeavour and that he doesn't expect to see returns, but adds that he "is not in the business of wasting money". Part of the appeal for Allesch-Taylor is to "instil a sense of entrepreneurship into short form content", which is why it tends to only part-fund projects, and that what appeals to him is helping upcoming talent.
However, he believes that there has been a "paradigm shift" in the industry since he announced his plans. Specifically, the $1bn NewTV endeavour launched by former Dreamworks chief Jeffrey Katzenberg and business mogul Meg Whitman earlier this month to produce short-form content.
"We're dovetailing the British short form film industry into thinking about being commercial at exactly the time the paradigm shift is being announced in Hollywood. We're talking about getting into the slipstream of NewTV and others. The horizon is running towards us at a rapid rate, this is just the beginning of it. [Our initiative] doesn't look as naïve now as it did when we announced nine months ago."
"Netflix and every other disruptor is going to get disrupted – there's an undercurrent with millennials now that they want to consume content on their smartphones."
Allesch-Taylor believes that "other bodies in the UK have been slow to react" to the growing trend towards short film content. "Current education around monetisation of short form is so woeful, any initiative that changes attitudes to it has to be a good thing. I want to be the guy who is part of making sure talent can monetise itself and offer value to the investor."
"We are already beginning to change the conversation. Twenty-two films doesn't make an empire, but we've only been at this nine months and you can see that the quality of these things isn't bad."
Full list of projects backed to date:
Things We Never Say – Alasdair MacKay
The Riot Act – Oliver Riley-Smith
Call Me Alvy – Alexei Slater
Rachel – Caroline Bartleet
Near – Jassa Ahluwalia
Little River Run – Ed Skrein
Our Kind Of Love – Azeem Bhati, Elham Ehsas
Gutterpunks – Luke Arnold
Oksijan – Edward Watts
Unpacking – Oliver Mason (all 5 episodes)
Gerry – Paul Agar, Victoria Hollup
Stalker – Christopher Andrews
Hair Cut – Koby Adom
A Short Crossing – Emile Ebrahim Kelly
Uncle Art – Lucy Lowe
Gandidean – Adara Penelope Todd
What Happened To Evie – Kate Cheeseman
The Good Life – Stefan J. Fideli
Leash – Harry Lighton
Heart's Ease – Jassa Ahluwalia
Promise – Neville Pierce
Anemone – Amrou Al-Kadhi