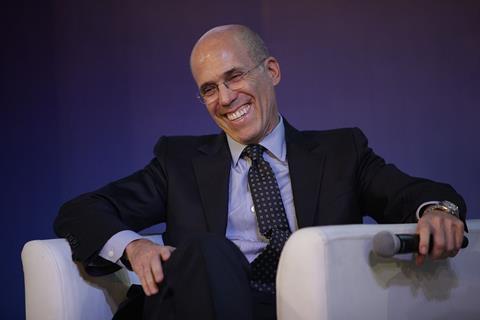 Former Disney and DreamWorks Animation chief Jeffrey Katzenberg's WndrCo has completed an initial $1bn cash raise for the mobile-first shortform content venture NewTV.
Hollywood studios Disney, 21st Century Fox, NBCUniversal, Sony Pictures, ATT-owned Warner Media, Viacom, Lionsgate, MGM, eOne, and ITV and China's Alibaba are among those understood to have got behind the initiative, expected to launch towards the end of 2019.
Madrone Capital led the round, which also raised funds from Goldman Sachs, JPMorgan Chase and Liberty Global. The valuation of NewTV was not disclosed.
Katzenberg and former HP CEO Meg Whitman will lead the Hollywood-based company, which is tentatively titled NewTV, and aims to provide premium 10-minute content primarily targeted at the 25-30 demographic. Price points will vary depending on whether subscribers opt for ad-supported or ad-free tiers.
Katzenberg has been evangelical about shortform for a number of years now and is known for his passionate dedication to new trends. He was famously supportive of 3D when that format reemerged more than a decade ago.
Whitman said the venture will be the "first entertainment platform built for easy, on-the-go mobile viewing", while Katzenberg described it as a technology distribution platform "built for the way we watch today".
ITV Studios managing director Julian Bellamy said the mobile platform offers new production opportunities, adding: "This investment is consistent with our 'more than TV' strategy and the focus on growing UK and global production".
The development comes as the entertainment and media sectors scramble to launch streaming services to rival Netflix, Amazon's Prime Video, and Hulu.
Disney plans to launch its service next year comprising its Disney, Pixar, Marvel Entertainment and Lucasfilm stables, alongside 21st Century Fox entertainment assets, and original material. Alibaba runs China-based service Youku.
This report contains elements that originally appeared on Screen's sister publication, Broadcast.