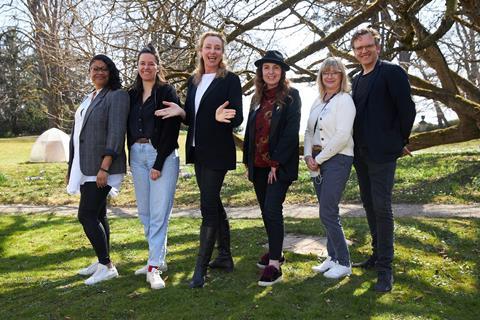 The FIlmfest München is traditionally the last opportunity for the German filmmaking community to meet up before the summer break, and this year's edition has an industry programmed with a pronounced international dimension.
One of this year's highlights is the two-day Cine CoPro Conference (June 29-30 ), hosted by the Filmfest and the Bavarian regional film fund FFF Bayern, in which around 40 German and UK producers, directors and screenwriters will come together to discuss opportunities for co-production between the two countries.
"he first thing that needs to happen is that people get more familiar with each other because there are some preconceptions and hearsay about what it is like to co-produce with the UK or with Germany," says Agnieszka Moody, head of industry and international policy at the BFI.
"Munich was recommended to us as being like the Berlinale but without global distraction We will be able to meet all of the German industry there."
Moody will be joined in Munich by four BFI colleagues: Film Fund director Mia Bays, head of inclusion Melanie Hoyes, co-production and development fund manager at the UK Global Screen Fund, Attica Dakhil, and film certification analyst Chantel Burrell.
UK producers in Munich will include Kurban Kassam (The Party), Leonora Darby (A Banquet), and Jackie Sheppard (Escape from Pretoria), as well as Jim Archer and David Earl , the writer and director of Brian And Charles, and A Banquet's director Ruth Paxton. The latter two films are screening at the festival.
"Mia was quite keen the creatives are also part of the programme as there will be discussion on what it means to write, create and direct for a global audience," Moody explains.
The Munich-based German participants will be led by Philipp Budweg ( Lieblingsfilm), Corinna Mehner ( Blue Eyes Fiction) and film director Christina Tournadtzés. Those coming from further afield will be Jonas Katzenstein (augenschein Filmproduktion) Melanie Blocksdorf (Achtung Panda), Jakob Zapf and Tonio Kellner (Neopol), Claritta Kratochwil (Ostlicht) and the Berlin-based Vietnamese-German filmmaker Duc Ngo Ngoc
The conference will open with presentations of the co-production opportunities in the UK and Germany by representatives of the German Federal Film Board (FFA), Germany's cash rebate scheme DFFF, FFF Bayern, and the BFI after a keynote from UK screenwriter. Tony Grisoni.
Case studies on recent German-UK co-productions will focus on Lieblingsfilm's Trautmann, about the German Manchester City goalkeeper Bert Trautmann, London-based German director Eva Weber's feature documentary Merkel, and Thomas Clay's Fanny Lye Deliver'd which, with perfect timing, will be having its German TV premiere on ARTE on the evening of conference's first day ( June 29)
"The conference is not just about specific projects, but about bringing people together," adds Filmfest artistic director Christoph Gröner adds. "We see the event as being a beacon for the German film industry to connect internationally and we truly believe that European co-production and beyond is one of the key aspects for the future of German filmmaking."
Labs, showcases, talks
The Filmfest is also serving as the backdrop of the MunichFilmup! mentoring and residential lab, which is organising its final session between June 30 and July 3. Six promising young filmmakers from Ukraine, India, Cameroon, Slovenia, Switzerland and Germany will present their debut feature scripts that have been developed in the lab during the past eight months to an audience of German professionals and international guests.
There is also a packed programme of fringe industry events some organised in collaboration with the Filmfest and others held independently. They will focus on issues such as diversity and inclusivity in the German film and television industry, artistic freedom, calls for radical reform to the German film funding landscape as well as the promotion of green shooting and sustainability in film production.
In addition, the Book Meets Film showcase will see German publishers pitching 12 books with adaptation potential to an audience of producers.
There is also an invite-only screenings showcase of upcoming releases for German exhibitors, organised by distributors including X Verleih, Alamode Film, Majestic, Weltkino and Alpenrepublik.
FIlmfest München opens today (Thursday June 23) with a gala screening of Marie Kreutzer's Corsage. it runs until Saturday July 2.