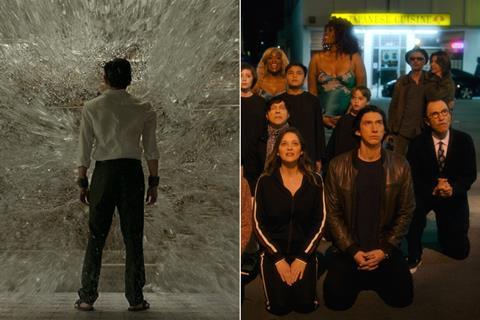 Blockbuster and independent titles are on releaes at UK and Ireland cinemas this weekend, with Disney debuting Shang-Chi And The Legend of the Ten Rings, and Mubi launching Leos Carax's Cannes opener Annette.
Playing in 643 locations for Disney and made under the Marvel Studios banner, Shang-Chi And The Legend of the Ten Rings tells the story of a master of unarmed weaponry-based Kung Fu, who is forced to confront his past after being drawn into the Ten Rings organisation.
The film is a substantial step up in budget and scale for director Destin Daniel Cretton, who started in the indie sphere with titles including Short Term 12 (£38,891 total in 2013), The Glass Castle (£109,410 in 2017), before making crime drama Just Mercy starring Michael B. Jordan (£1.6m in 2020).
The film industry has belatedly begun to open up to blockbuster films led by Asian people and people of Asian descent. A watermark was 2018's Crazy Rich Asians, which opened to £1.6m in the UK and Ireland and ended on £5.9m, as part of a large $239m (£172m) worldwide.
Mulan was set for a wide theatrical release before the pandemic pushed many of its territories, including the UK and Ireland, to Disney+ only. However there is still signs of progress, including in the independent sphere with Lulu Wang's The Farewell grossing £934,910 in 2019, and a 2020 Bafta nomination for best film not in the English language.
Across the aisle in the arthouse space, Mubi's Annette arrives in 146 cinemas less than two months after it opened the 2021 Cannes Film Festival. Carax's musical, with both story and songs written by Ron and Russell Mael of US pop band Sparks, centres a stand-up comedian and his opera singer wife, whose two-year-old daughter has a surprising gift.
Despite its substantial release, the film has not been picked up by any Curzon venues. It is playing in Cineworld, Odeon, Vue, Picturehouse and Everyman cinemas among others. Mubi and Curzon have a chequered recent past, with the exhibitor playing select Mubi titles such as First Cow, but not others, such as Ben Sharrock's Limbo. Screen has contacted both Mubi and Curzon for comment.
Annette is French director Carax's sixth feature, although he went 13 years without making one between 1999's Pola X and 2012's Holy Motors, which took £243,320, through Curzon.
Adam Driver and Marion Cotillard lead the film. Both are reliable box office draws in both mainstream and indie films; Driver through the recent Star Wars trilogy (2015's Star Wars: The Force Awakens is still the highest-grossing film of all time in the UK and Ireland, with £123.2m) and Jim Jarmusch's 2016 Paterson (£685,544); and Cotillard through Christopher Nolan's Inception (£35.8m) and The Dark Knight Rises (£56.4m), and 2007's La Vie En Rose (£1.7m), for which she won the Oscar for best actress.
The Mael brothers have also been in cinemas this summer through Edgar Wright's documentary about them, The Sparks Brothers, up to £233,690 as of last weekend.
Starting a Fire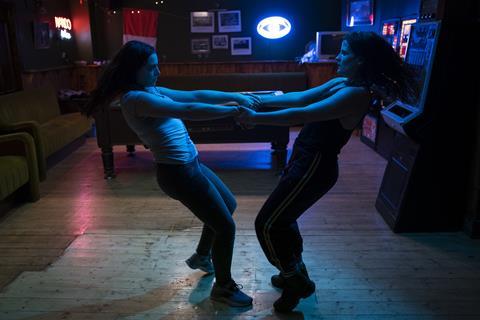 Modern Films is releasing Cathy Brady's debut Wildfire, a drama about two reunited sisters unearthing their mother's secret past, in 45 locations.
Brady won the £50,000 IWC Schaffhausen filmmaker bursary award, in association with the BFI, for the film at last year's BFI London Film Festival.
Wildfire debuted at the online Toronto International Film Festival in 2020. The film is led by Nora-Jane Noone and Nika McGuigan; McGuigan died in July 2019 aged 33, after filming had completed.
Last weekend Modern Films hosted an outdoor preview screening at Barry McGuigan Park in Clones, Ireland – the McGuigan family's hometown. Nika was honoured at the screening, and posthumously awarded the Irish Film and Television Academy award for best actress for the film.
Sony is releasing comedy Here Today, directed by Billy Crystal, who also stars opposite Tiffany Haddish in the story of a veteran comedy writer who forms an unlikely friendship with a younger New York street singer. The film will start in 179 locations.
Rise of the Footsoldier: Origins, the fifth in the Footsoldier series of crime dramas, will open in 243 locations through Signature Entertainment. The previous high mark for the series was the 2007 first film, which opened to £85,903 and ended on £170,853. Interest in the series has grown over the years with strong performance on DVD and VoD; Signature will be looking to set a new bar this time out.
Limited releases include Republic Film Distribution's Sundance 2021 documentary Misha and the Wolves, the true story behind a successful but deceptive Holocaust memorial, in 24 locations; music documentary Justine Jensen: Falling For Stradivari in 22 sites through Asterisk Films; and Venice 2020 police drama Shorta in six sites through Vertigo Releasing.
Photojournalist documentary Almost Liverpool 8 opened in two sites on Wednesday 1 through Dartmouth Films; while Andy Kelleher's Second Spring is playing at a single location this weekend – London's Prince Charles Cinema.
Key holdovers include three-time number one Free Guy; Universal's horror Candyman; and Picturehouse Entertainment's The Nest starring Jude Law and Carrie Coon.