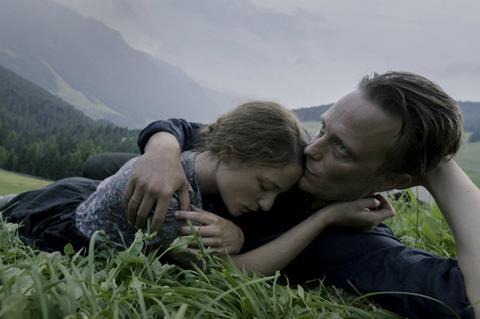 Details have emerged of the international component of Fox Searchlight's headline-grabbing Cannes deal for Terrence Malick's Competition selection A Hidden Life.
The company pounced early last week following the world premiere on the Croisette, announcing US and select territories in a deal with CAA Media Finance and Mister Smith believed to be around $13m.
Screen has learned Searchlight also picked up rights for the UK, Italy, Spain, Latin America, Benelux, Switzerland, Czech Republic, Slovakia, Baltics, South Africa, Turkey, Japan, Taiwan, and Singapore, among others.
The 173-minute-long film – Malick's first in Cannes since his 2011 Palme d'Or winner The Tree Of Life, which Searchlight distributed in the US – has been hailed as a return to form and became the second Competition selection to land an on-site deal after Amazon Studios picked up Ladj Ly's Les Misérables.
August Diehl stars as the farmer and Austrian conscientious objector Franz Jägerstätter, who was executed in 1943 for refusing to fight for the Nazis in the Second World War.
Jägerstätter was declared a martyr by Pope Benedict XVI in June 2007 and beatified later in the year.
A Hidden Life also stars Valerie Pachner, Maria Simon, Tobias Moretti, Bruno Ganz, Matthias Schoenaerts, Karin Neuhäuser, Ulrich Matthes.