The UK's film and TV production boom shows no sign of abating - with inward investment revenue from international productions topping $4bn in 2018 - and there is now a gold rush to build the necessary studio space to house the wealth of projects in the territory.

International production companies, and in particular the US majors alongside new SVoD players, are attracted to the UK's tax reliefs for film and high-end TV, the established crew base, and world-class studio facilities. Shepperton and Pinewood are both expanding in order to meet the anticipated further demand for space and new studio builds are regularly being touted across the UK and Ireland.
Screen profiles five of the latest significant studio developments.
Dagenham East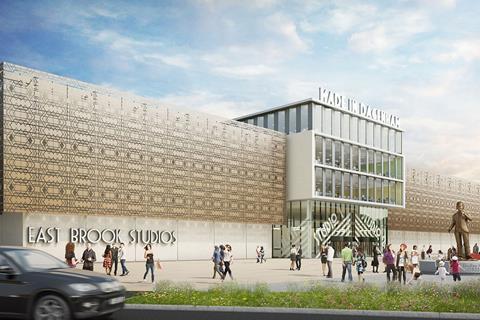 Where is it?
The site is in the London borough of Barking and Dagenham in the east of the UK's capital. It was identified as a potential studio space in 2015 after hosting shoot locations for Marvel blockbuster Avengers: Age Of Ultron and ITV's Code Of A Killer. The new project is said to be a £100m development.
What's the status?
In March 2018, Barking and Dagenham Council announcedt US production facilities specialist Pacifica Ventures, in partnership with private equity firm Media Content Capital (MCC), had been selected as the preferred builder and operator of the complex. Pacifica and MCC visited the site to meet the council in late 2018 and ground preparation could begin this year. The first structures of the site are planned to go up next year and the plan is to open in stages, commencing as early as 2020.
What facilities will it have?
Going by the current plans, the facility would be the largest studio space in London. The two-acre site would include 12 sound stages covering 264,000 sq ft; around 95,000 sq ft of production office space; a post-production, visual effects and media technology complex; an event centre and large screen auditorium including VR and immersive 3D attractions with studio tours.
Port of Leith
Where is it?
The Port of Leith site sits to the north of Scotland's capital Edinburgh. It's three miles from the city centre and around 10 miles from the city's international airport. The site was originally built in 2000 by an engineering firm, but closed down in 2004. It was taken over by an energy firm but that company subsequently closed, leaving it vacant. The location has already been used as a film production hub when Marvel's Avengers: Infinity War shot some scenes there in 2017.
What's the status?
National body Screen Scotland is looking for a private developer to lease, refurbish and operate the site, and launched a tender process inviting proposals in December. The deadline for submissions was February 1 and the organisation intends to announce its preferred partner in spring this year. The chosen operator will lease the premieres from Screen Scotland and will fund and carry out a refurbishment of the building to provide commercially viable studio facilities, potentially partially with government support.
"We have had an encouraging and positive response to the call out for tender submissions. Following evaluation of eligible submissions, a preferred partner will be selected. The intention is that a conclusion on the final operator will be made by the end of April 2019. We will then work to support the operator to deliver the studio as soon as possible during 2019," said Iain Munro, acting chief executive at Creative Scotland.
What facilities will it have?
The 160,000 sq ft site has the potential for five sound stages of between 50ft and 100ft in height. In addition, there is also 27,000 sq ft of workshop, production and office space.
Mercian Studios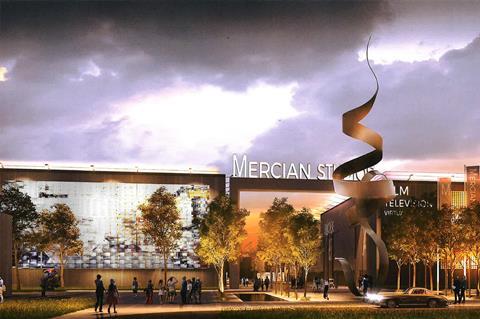 Where is it?
Steven Knight, the Birmingham-born screenwriter, film director and creator of Peaky Blinders, has identified a site near Midlands city Birmingham which could house a major film and TV production facility. Plans for the HS2 high-speed rail link will put the space just 39 minutes travel from central London. The site is also close to Birmingham International airport.
What's the status?
Knight has been cooking the idea for three years, and is reporting strong interest from private sources in financing the project. While Birmingham City Council has been looking for development responses to HS2, Knight says he does not believe the build will require any public money. The time frame for the ambitious project is two to two-and-a-half-years. Knight says he has already had contact from major US studios as they seek more space to house productions.
What facilities will it have?
The 20-acre site will include six sound stages. One will be a "shiny-floor" studio for TV broadcasting. It will also have on-site post-production and the usual range of facilities provided by a large-scale TV and film studio, including set builders, electricians, carpenters, costume, hair and make-up and props. Knight is also aiming for the project to be "the greenest studio in the world".
Salters Gate
Where is it?
The second major studio development in Scotland on this list lies south-east of the Scottish capital and a 20-minute drive from Edinburgh airport. The project is being driven by PSL Land, the company behind the now shelved Pentland Studios development, which was blocked by a Scottish farmer's legal challenge.
What's the status?
In January this year, PSL announced they were going ahead at the new Salters Gate site after Buccleuch Estates, which owns the land, offered up the site as a potential location for the studio. A sale agreement is now in place between the two parties. Work is scheduled for March this year and the facility could be running as soon as late 2019 / early 2020.
What facilities will it have?
The 48-acre site will have nine sound stages across 208,000 sq ft. There will also be workshops, a commissary building, and media hub. PSL is also in discussions with Edinburgh Napier University about establishing a film academy on the site.
Rebellion Studios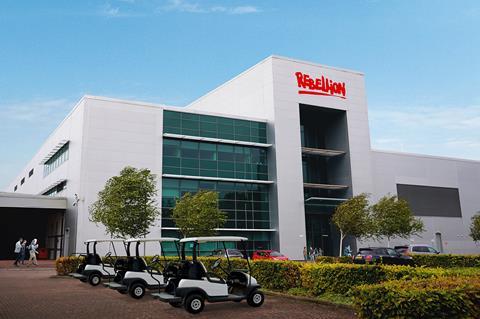 Where is it?
A former printworks used by the Daily Mail in Didcot has been purchased by Rebellion, the UK film and TV producer and video game/comic book publishing company, to be turned into a significant UK film and TV studio. The location is 20 minutes' drive from Oxford and about a 90-120 minutes drive from central London. It is also about 45 minutes' train journey to the capital.
What's the status?
Rebellion sayst the site will be rapidly transformed into a facility that can house production – the main building on the site already has a fully soundproofed, vibration-matted stage for the print presses and this can be utilised for film. There is also production office space that is ready to use. The site also has heating, lighting and high-speed internet. As such, it could be operational as early as this year, with Rebellion's feature film Rogue Trooper, set to be directed by Duncan Jones, and its Judge Dredd TV sci-fi drama Mega-City One, scheduled to be the first two projects to be housed there. The company says it has had an "extraordinary amount of interest from international production companies including US studios" since announcing the studio. It will also look to development further sound stages and extra facilities on the site in the long-term.
What facilities will it have?
The site is 220,000 sq ft and the initial facility will feature a 25,000 sq ft sound stage. Further stages will be built on the location. Rebellion also already owns a three-stage studio space in Oxford, which is home to Europe's largest performance capture stage and Rebellion's subsidiary motion-capture company Audiomotion.