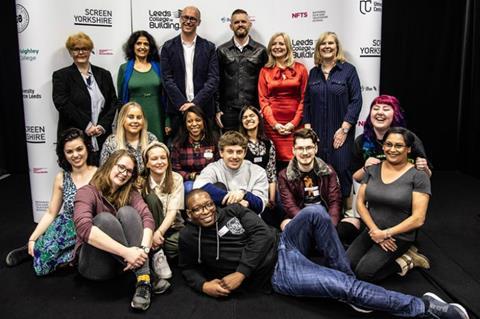 The UK's first Centre of Screen Excellence has officially opened in Leeds following an 18-month collaboration between Screen Yorkshire, The National Film and Television School (NFTS), ScreenSkills and the British Film Institute (BFI).
The Centre of Screen Excellence: Yorkshire (CoSE:Y) will support the next generation of talent across several disciplines and address a talent gap that has sprung up following a growing number of productions being filmed in the region.
Yorkshire's popularity as a filming destination is also set to increase on the back of Channel 4's decision to set up its headquarters in Leeds and the recent opening of Sky Studio's Innovation Hub.
Supported by National Lottery funding and part of the BFI's Future Film Skills strategy, the first tranche of courses include construction, costume, grip, hair and make-up, lighting and production assistant.
Splitting their time equally between classroom learning and placements on productions, 75 students will embark on a nine-month programme that will enable them to develop their skills and progress on the career ladder.
Delivering a keynote masterclass to the first students, Sally Wainwright, creator of TV shows including Last Tango In Halifax and Happy Valley, said that the investment into the next generation of talent was "brilliant and vital".
"When we were filming across the road from here for Gentleman Jack and Last Tango in Halifax, we struggled to find crew," said Wainwright. "These sorts of opportunities did not exist when I grew up in Yorkshire in the 1970s and if you wanted to work in TV you had to go to London."
The courses are being delivered by the NFTS, in partnership with Leeds College of Building, University Centre Leeds, Keighley College and the BECTU Grips and Crane Technicians Branch. The centre is also providing mentoring, bursaries and continuous professional development courses.
Thrive and survive
ScreenSkills head of film and animation Gareth Ellis-Unwin said the centre differentiated from other programmes because it was the first time the industry had tied together disparate forms of help in one location.
"There are lots of initiatives out there, but it is quite a fragmented landscape and whether through training, mentorships or bursaries, this is all about helping people to thrive and survive in this industry," said Ellis-Unwin, whose Oscar-winning The King's Speech shot partly in Yorkshire.
Screen Yorkshire chief executive Sally Joynson said the centre was special because significant national partners were pooling resources, brains and expertise.
"It is brilliant watching people from new communities entering the film industries and thinking that they can do it," said Joynson. "In the last 12 months we have had C4 move here, new studios, investments and companies, and now there is a nationally based training scheme in Yorkshire. Together we can really push production and grow skills."
Recently-appointed BFI chief executive Ben Roberts said the centre would create a blueprint for future centres in the UK to ensure other regions can effectively capitalise on the production industries' increasing demand for skills.
NFTS director Jon Wardle said the courses on offer were "world-class" and would offer students the best opportunity to pursue their careers.
Hair and make-up student Alicia Smith, 22, said she had enrolled on the nine-month course to pursue her passion for special effects make-up. The majority of the courses cost £3,000 but extra funding had been used to cover the make-up course.
"I have to buy a kit for £250 but the course is free and it looks absolutely amazing," said Smith. "There isn't anything else like this available and with C4 in Leeds and ITV next door, there are loads of networking opportunities. I used to watch Doctor Who when I was a kid and knew straight away this is what I wanted to do – the scary stuff."
This article originally appeared on Screen's sister publication Broadcast.