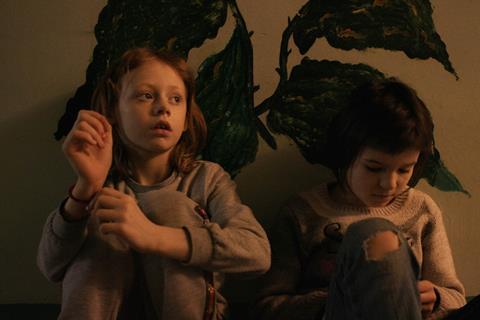 Danish filmmaker Simon Lereng Wilmont's A House Made Of Splinters won the Golden Alexander prize of the international competition of the 24th Thessaloniki Documentary Festival, which closed on Sunday, March 20.
With its European premiere at Thessaloniki, Wilmont's film is gaining attention on the festival circuit, having won the directing award in the World Cinema Documentary section on debut at the online Sundance in January; and also received the Fipresci prize in Thessaloniki.
Scroll down for the full list of winners
Shot in Ukraine prior to the Russian invasion of February 24, the film centres on a group of social workers dealing with children in an orphanage in the war-ravaged eastern territory of the country.
The Danish-Finnish-Swedish-Ukrainian co-production is produced by Monica Hellstrom for Denmark's Final Cut For Real; with Israel-based Cinephil handling sales.
The Golden Alexander comes with a €12,000 (£10,037) prize; Wilmont previously won the award in 2018 for The Distant Barking Of Dogs, also set on the frontline of the Ukraine-Russia war.
Both films were part of a spotlight on Ukrainian cinema as part of the festival. Also included were Trenches from French filmmaker Loup Bureau, in the Top Docs section; and Ukrainian Mikhail Ilenko's Toloka.
All proceeds from the screenings of these titles went to the Voices of Children charity, which aims to help children impacted by the war.
A significant Greek population lives in Ukraine, with over 90,000 ethnic Greeks registed at the 2001 Ukrainian census; and over 15,000 recorded in the two heavily bombarded cities of Odesa and Mariupol.
Co-production winners
Neasa Ni Chianain and Declan MacGrath's Young Plato won the €5,000 (£4,182) international competition special jury prize. The film, about a headmaster trying to change the fortunes of a group of schoolchildren in post-conflict Belfast, is a UK-Ireland-France-Belgium co-production, with Austria's Autlook Filmsales selling the title.
Latvian documentarian Laila Pakalnina headed the international competition jury, as well as receiving a special tribute at the festival.
In the Newcomers section – named in honour of festival founder Dimitri Eipides – Inka Achte's Finnish title Golden Land took the Golden Alexander; with a special jury prize for Daniel Carsenty and Mohammed Abugeth's The Devil's Drivers.
Winners in the Film Forward competition included Samir Guadagnuolo and Tiziano Doria's Italian feature The Bride, Martin Gutierrez's Spanish film Amateur and Greek title Letter To Nikola from Hara Kaminara.
A total of €50,000 (£41,817) was awarded across 24 prizes.
A further €15,000 (£12,545) was given to the industry winners, which included Tzeli Hadjimitrou and Anemos Dimiourgias' Greek title λesvia, The Herstory of Eressos – winner of the post-production award and new Onassis Culture Cinema prize.
This year's festival ran from March 10-20, as a combination of in-person and online events and screenings.
Thessaloniki Documentary Festival 2022 awards
International Competition
Golden Alexander award – A House Made Of Splinters (Den-Fin-Swe-Ukr) dir. Simon Lereng Wilmont
Special jury award – Young Plato (UK-Ire-Fr-Bel) dirs. Declan McGrath, Neasa Ni Chianain
Newcomers Competition
Golden Alexander award – Golden Land (Fin-Swe-Nor) dir. Inka Achte
Special jury award – The Devil's Drivers (Qat-Fr-Leb-Ger) dirs. Daniel Carsenty, Mohammed Abugeth
Film Forward Competition
Golden Alexander award – The Bride (It) dirs. Samira Guadagnuolo, Tiziano Doria
Special jury award - Amateur (Sp) dir. Martin Gutierrez (Spain); ex aequo - Letter to Nikola (Gr-Bel) dir. Hara Kaminara
Mermaid Competition
Best film – Gabi: Between Ages 8 and 13 (Swe-No) dir. Engeli Broberg
Special mentions – Mel (Arm-Neth) dirs. Inna Sahakyan, Paul Cohen; Sirens (US-Leb) dir. Rita Baghdadi
Greek Film Centre awards
Debut director – The Itinerary (Gr) dir. Orestis Athanasopoulos
Docs in Progress - #METISOFIA (Gr) dir. Vania Turner
Industry-Agora Docs Awards
Thessaloniki Pitching Forum awards – Harvest Moon (Jor) dir. Rama Ayasra; Sunken (Gr) dir. Dimitris Gkotsis
Documentary Association of Europe award – The Floating World (It-US) dir. Fernando Souza
Digital Services award – Super Paradise (Gr) dir. Steve Krikris
Networking award – Caution, Risk Of Falling Exhibits! (Slovakia) dirs. Jana Durajova, Lena Kusnierikova
Mediterranean Film Institute award – Honeydew (It-Swe) dirs. Marco Bergonzi, Michael Petrolini
Docs in Progress Awards
Post-production award - λesvia, The Herstory of Eressos (Gr) dirs. Tzeli Hadjidimitrou, Anemos Dimiourgias
Music and sound services award – Citizen Miko (Cze) dir. Robin Kvapil
Green Film Centre award - #METISOFIA (Gr) dir. Vania Turner
Subtitling award – The Love Room (N Mac) dir. Suzana Dinevski
Onassis Culture Cinema award - λesvia, The Herstory of Eressos (Gr) dirs. Tzeli Hadjidimitrou, Anemos Dimiourgias
Agora Lab award – Panellinion (Gr) dir. Spyros Mantzavinos