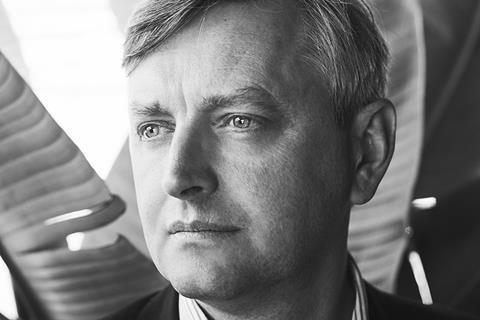 The decision to expel director Sergei Loznitsa from the Ukrainian Film Academy "was directly related to the narratives the director tells about Ukraine", according to Anna Machukh, executive director of the Academy and the Odesa International Film Festival.
Loznitsa announced on Saturday (March 19) that he'd been kicked out of the organisation, in part, for expressing support for dissident Russian filmmakers.
Explaining the expulsion, Machukh said: "Since the beginning of Russia's full-scale invasion of Ukraine, we have tirelessly called on the global film community to boycott Russian cinema. But Sergei Loznitsa publicly opposes this, thus denying the Russians' collective responsibility for the war their country unleashed in Ukraine."
She added that Loznitsa "often resorted to speculation on the topic of Ukrainian-Russian relations", which is an "unacceptable" position and "contrary to the values of the Ukrainian Film Academy".
The Academy said that "the countries of Europe and the whole world should have a complete and unambiguous picture of what the aggressor country is doing in Ukraine. Therefore, every Ukrainian is now the ambassador of his country."
"A special responsibility now lies with creative industries specialists well known abroad. Their position must be clear and unambiguous."
The Academy added that Loznitsa had "repeatedly stressed that he considers himself a cosmopolitan, 'a man of the world'. However, now, when Ukraine is struggling to defend its independence, the key concept in the rhetoric of every Ukrainian should be his national identity."
Loznitsa "astonished"
In a statement issued on Saturday evening in response to the Academy's decision, Loznitsa said that he had been "astonished" to read that he was being expelled for being "cosmopolitan".
He said that this term had only acquired a negative connotation during Stalin's antisemitic campaign between 1948 and 1953.
"By speaking out against cosmopolitanism, the Ukrainian Academy members employ this very discourse invented by Stalin, based on hatred, denial of freedom of speech, advocating collective guilt and forbidding any manifestations of individualism and individual choice," he said.
He said the focus on "national identity" was akin to Nazism and "a gift to Kremlin propagandists".
He also rejected the appeal in the Academy's statement to the world community that it should not position him as a representative of the Ukrainian cultural sphere.
"Never in my life have I represented any community, group, association or 'sphere'", Loznitsa wrote. "Everything I say and do has always been and always will be my own individual statements and actions."
"I am and will always be a Ukrainian filmmaker," he concluded.
Cannes regular Loznitsa has spent his career exploring the history and politics of Ukraine and the wider region. His 2018 film Donbass, which won the directing prize in Cannes Un Certain Regard, captured the conflict since between Ukrainian government forces and Russia-backed separatists in Eastern Ukraine which was a precursor to Russia's current full-scale invasion.