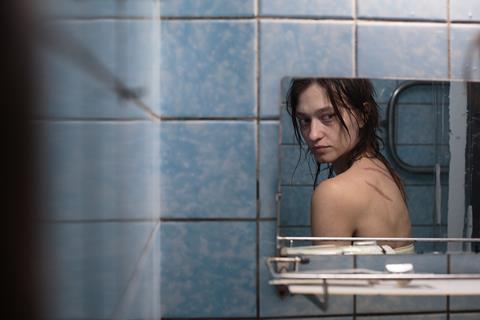 The team behind Un Certain Regard title Butterfly Vision will stage a protest on the red carpet ahead of the film's premiere tomorrow (Wednesday 25) in the Salle Debussy.
Director Maksym Nakonechnyi, producers Darya Bassel and Yelizaveta Smit, and lead actress Rita Burkovska will take to the steps to the noise of the air raid sirens that sound in Ukraine when a Russian attack is imminent.
These will play in place of the music that typically accompanies Cannes premieres, which is selected by the film team. The festival is aware of the planned protest and is permitting it to take place, including the sirens. The team will then unroll a banner displaying the words: 'Russians kill Ukrainians. Do you find it offensive or disturbing to talk about this genocide?'
The Ukrainian members of the team will then raise matte translucent squares to their faces, which depict the 'crossed eye' logo used on social networks to hide content that is potentially sensitive or disturbing. Several of those present will wear t-shirts depicting messages in solidarity with the Ukrainian people.
"The reason for us to leave Ukraine is to speak out – to be noticeable, precise and clear," said Nakonechnyi. "This is a war of senses and narratives; this is a great opportunity to strengthen the Ukrainian sovereign narrative."
Three months to the day that Russia invaded Ukraine, the filmmaker says continuing to represent the Ukrainian people is the best thing the international film industry can do. "The matter of us continuing to fight is keeping Ukraine at the top of the agenda," said Nakonechnyi, who also called for continued weaponry support from international partners.
The Russian presence in Cannes has been led by Kirill Serebrennikov, who called for an end to the "unbearable" boycott of Russian culture last week. "For us, there's no need to speak out aggressively, in a radical way," said Nakonechnyi in response.
"The Russian representatives speak for themselves; they've repeatedly claimed that their purpose is to bring justification and protection for Russian oligarchs, politicians, soldiers and war crimes. And changing the perception of Russian narratives and culture, which is right now being used as one of the tools and justifications of the regime's mass destruction."
Butterfly Vision is about a woman returning home having been held captive on the Ukrainian frontline, who discovers she is pregnant via a rape by her warden. Nakonechnyi is in early writing stages for his next film, which will be a comedy.
He also gave tips for Ukrainian films that may pop up at Venice or subsequent key festivals, including Rock. Paper. Grenade. directed by his Butterfly Vision co-writer Iryna Tsilyk; long-Yulia Hontaruk's gestating war documentary Company Of Steel, which now includes footage of the controversial Azov regiment returning from the frontline; and Roman Liubyi's documentary-fiction hybrid Iron Butterflies, about the MH-17 plane that was shot down over eastern Ukraine by Russian forces.