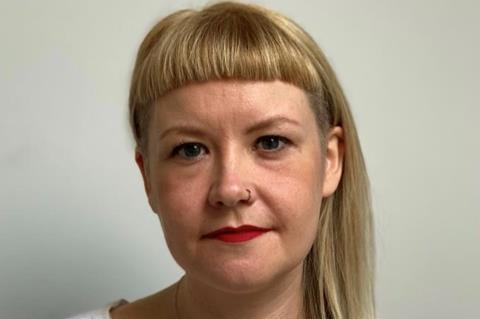 Birds' Eye View is changing the name under which all of its work will be carried out to Reclaim The Frame, as the UK campaign group that champions marginalised genders in all film spaces celebrates its 20th anniversary year.
The unveiling of the new moniker chimes with today's International Women's Day (IWD, March 8). Birds' Eye View initially launched as a women's film festival in 2005, running each International Women's Day until 2014, and since 2017 has been a year-round and UK-wide initiative.
The rebrand marks a renewed commitment to the representation of women and non-binary filmmakers, with a focus on greater accessibility and inclusivity. "[It's] the name that best conveys our mission and our call to action for allies and audiences," said the organisation's director, Melanie Iredale, who was taking part in Glasgow Film Festival's IWD industry programme.
"From today, 'Reclaim The Frame' represents not only our mission, but the name by which we will deliver all our activities, audience and industry facing," she continued. "Once the title of our major initiative – founded [in 2017] by my predecessor Mia Bays to support female-led films to reach audiences across the UK – Reclaim The Frame will now be the name of the charity as we continue our work supporting films by filmmakers of all marginalised genders."
Sheffield-based Iredale took over in September 2021, with a commitment to promoting greater intersectionality in the organisation's programme and to decentralise work in the nations and regions. "We've made progress in both and seek to be more transparent in an effort to make better use of the data we hold and to be more accountable for the public money we receive," said Iredale.
"We also recognise the scale of the task at hand, and continue to strive to do better, especially by those most marginalised: through listening to the changing needs of our sector, the professional and lived experience of our team, trustees, advisory group and partners, and feedback from our audiences, which we gather at each and every screening."
Last year, Reclaim the Frame x International was launched, working in partnership with women's film festivals across South Asia and North Africa, and with filmmakers in Turkey, Taiwan, Tunisia and Lebanon. "From today, we're pleased to be making a trilogy of films by Beirut-based documentary maker and activist Zeina Daccache available online for audiences globally via [online platform] Doc Alliance Films, and we aim to continue to develop our international work in the future."
Iredale added: "Much has changed since the charity was set up 20 years ago and yet there remains a long way to go. We have the courage of so many to thank for the freedoms achieved so far, including those for whom that progress has come at some personal cost. Yet stark gender imbalances remain – from who gets commissioned to make films, at what level of budget, to what scale of release, and who can access them, and we're acutely aware of the work left to do to achieve equity and our role within a collective responsibility in the sector to make change through the work we do."