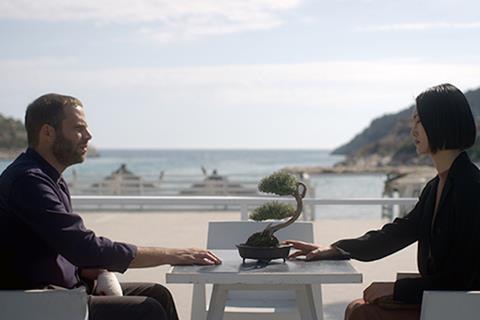 Greek director Giorgos Georgopoulos's Not To Be Unpleasant But We Need To Have A Serious Talk won the 'film of the festival' prize at the UK's Raindance Film Festival, held online this year from October 28 to November 7.
A dark comedy about a womaniser who contracts a sexually-transmited disease that could be fatal to his many partners, Greece's Not To Be Unpleasant previously picked up the J.F.Costopoulos Foundation award at the 2019 Thessaloniki film festival.
The other winners announced during the virtual awards ceremony, which was live-streamed from the Leicester Square Theatre in London, included Force Of Habit, which won best international feature and best screenplay. The film was made by a collective of seven Finnish women directors and portrays the normality of sexual harassment in our society.
Macedonia's Milcho Manchevski won best director for Willow, which premiered at last year's Rome Film Fest and is on the long list for this year's European Film Awards. He is best known for Before The Rain, nominated for best foreign language film at the 1995 Oscars.
Johnny Flynn won best performance for his portrayal of a young David Bowie in Gabriel Range's Stardust, which opened Raindance this year.
Keith Fulton and Louis Pepe's Terry Gilliam documentary He Dreams Of Giants, a follow-up to Lost In La Mancha that recounts Gilliam's struggle to complete The Man Who Killed Don Quixote, was awarded best UK feature.
The discovery award for debut feature went to Antonio Lukich's My Thoughts Are Silent, which premiered in Karlovy Vary's East of West strand in 2019, where it won the special jury prize.
The other winners included Topowa! - Never Give Up (best music documentary); The State Of Texas Vs Melissa (best documentary feature); Tim Cragg (best Cinematography for The Great Green Wall) and The Hat (Spirit Of The Festival)
This year's jury included actors Jeremy Irons, Stephanie Beacham, Aki Omoshaybi, Esme Creed-Miles, Jessica Brown Findlay, Thomas Brodie Sangster and Lily Cole.
Also on the jury were S.O.U.L Film Festival founder Akua Gyamfi, critics Anna Smith and Guy Lodge, filmmakers Alexandra Kotcheff and Zara Balfour, and Jamie Mendonca, theatrical sales executive at Curzon Artificial Eye.