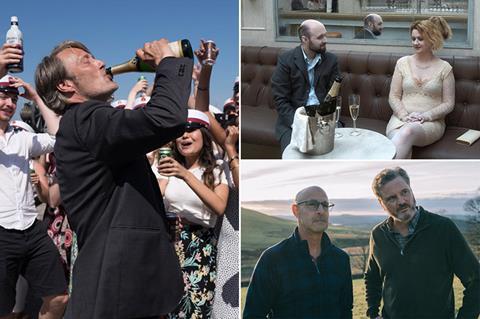 UK film distributors are quickly putting new release plans in place in response to the government's new lockdown rules which will see cinemas close in England tomorrow (Thursday November 5) for four weeks.
But not all films are being postponed – and some are even proceeding with theatrical release, since cinemas remain open in parts of Scotland and on islands such as Guernsey and Isle Of Man. Wales is set to emerge from its "firebreak" next week, and cinemas in the nation are accepting bookings. Nothern Ireland's cinemas may also reopen on November 12. (Ireland's cinemas are not set to reopen until at least Dec 2, the same date as those in England.)
Set for release this Friday via STX, plane-in-peril thriller Horizon Line has been put back to a new date, yet to be announced. But Lionsgate's A Christmas Gift From Bob is sticking with its date – and for good reason. The festive hook for the film – which is a sequel to A Street Cat Named Bob, and likewise based on bestselling books by James Bowen – means Lionsgate would have very narrow options to delay and still release in time for Christmas. Also, the film was always set to release both theatrically and on premium video-on-demand, and the VoD release can proceed as planned. Lionsgate will release in "around nine" cinemas in Scotland and Wales.
Studiocanal is delaying release of two notable titles, both festival favourites, that had been set for later this month: Harry Macqueen's Supernova, starring Colin Firth and Stanley Tucci; and Thomas Vinterberg's Another Round, with Mads Mikkelsen. No new dates have yet been confirmed.
Pathe had set Pedro Almodóvar short The Human Voice for Saturday November 7, in a feature-length package also including a Q&A with the filmmaker and star Tilda Swinton. This release has now been delayed, and Pathe is looking at options in 2021.
Trafalgar similarly had an event-style release of concert film Idiot Prayer: Nick Cave Alone At Alexandra Palace set for tomorrow, November 5.
Sony has two films set for release this week and next: US indie teen drama Words On Bathroom Walls (starring Charlie Plummer and Taylor Russell), and US indie comedy drama The Last Shift (starring Richard Jenkins and Shane Paul McGhie). Both releases are proceeding, with Sony booking the film into cinemas where restrictions allow, and rolling into more as they reopen.
Universal's Freaky – starring Kathryn Newton as a high school teen who swaps bodies with a serial killer (Vince Vaughn) – will not reportedly be sticking with its planned November 13 date. Similarly, Peccadillo's French drama Two Of Us and New Wave's Italian drama Martin Eden are moving off this date until cinemas reopen in England.
Indies
Arrow had been set to release a 4k restoration of David Cronenberg's Crash into 70-plus cinemas this Friday. Given Arrow's release of the film on Blu-ray and ultra high-definition Blu-ray later this month, the theatrical release will proceed – but for now just at Odeon Dunfermline in Scotland.
Keeping it in the family, Brandon Cronenberg's Possessor – which premiered at Sundance Film Festival in January, and boasts a cast led by Andrea Riseborough – was set for November 27 via Signature Entertainment. The sci-fi thriller will now bypass cinemas, sticking with the same release date, but as premium VOD via digital platforms.
Several indie titles are pivoting to VoD and to virtual release via cinema partners on a revenue-sharing model. From Bulldog Film Distribution, UK indie thriller Looted will take this path. However, Thursday-night previews at the Showcase chain have been moved up to tonight.
Republic's release of Love Child – a documentary portrait of a family of asylum seekers directed by Denmark's Eva Mulvad – is moving to virtual theatrical, with 12 partner sites so far announced. It is also available on VoD from Friday at platforms such as Curzon Home Cinema, and then a week later both VoD and EST at a wider range of vendors.
Modern Films' Luxor, a drama starring Andrea Riseborough and Karim Saleh set in the titular Egyptian ancient city, had been set to release into 15 physical cinemas, 25 virtual ones, and via 10 organisational partners across physical and digital screenings and events. The film will now release on VoD and via digital cinema and festival partners.
Curzon is proceeding with the release of its latest film from Swedish auteur Roy Andersson, About Endlessness – which premieres on Friday via Curzon Home Cinema. It's also available for open cinemas to book, and is upcoming at Belmont Aberdeen, for example.
Netflix had planned theatrical outings for key titles such as David Fincher's Mank and Ron Howard's Hillbilly Elegy, ahead of their addition to the streaming service. Everyman's website is still listing its Cardiff site as playing Hillbilly Elegy on November 11, so it is understood the films remain available to venues that are open.
Werner Herzog and Clive Oppenhemier's Fireball: Visitors From Darker Worlds will proceed with its release via Apple TV+ on November 13, but the theatrical release via Dogwoof will now not occur.