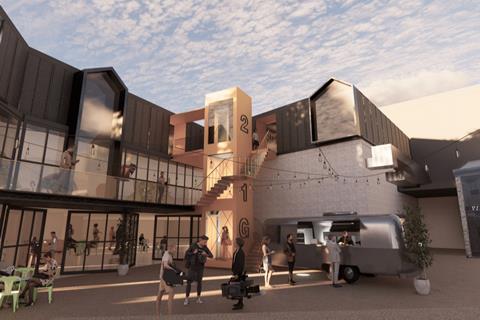 UK film and TV production site Twickenham Film Studios has rolled out plans for a £15m refurbishment and expansion for its campus in Richmond, south-west London.
A planning application for the development has been submitted to Richmond Council; the company hopes to begin building later this year and complete before October 2022.
New elements to the site will include a TV studio with audience involvement; upgraded sound production studios; a second sound-mixing suite to host tentpole productions; and a new entrance building with flexible workspaces, a boutique cinema, a café and a rooftop social bar area.
There will also be renovation to the existing buildings on the site.
The project will be lead by Piers Read and Jeremy Rainbird's studio building firm The Creative District Improvement Co (TCDI CO), with investment from General Projects and the British Airways Pension Fund.
The work is part of TCDI CO's £500m studio investment fund, launched last March, which aims to create 5,000 jobs and one million square feet of production space in the UK by 2024.
"The physical enhancement of the campus not only talks to the heritage of the buildings but will see a continuation of our investment into cutting-edge facilities and best-in-class production workflows centred around sound, picture and film studios," said a joint statement from Read and Rainbird.
The design for the expansion was created by architect Guy Hollaway of Hollaway Studio.
"Working with innovative materials such as pigmented concrete will allow us to design an entrance with a playful façade that not only enhances its historic setting but also pays homage to the events happening beyond," said Hollaway.
Twickenham Film Studios is operated by Time+Space Studios, a subsidiary of TCDI CO.